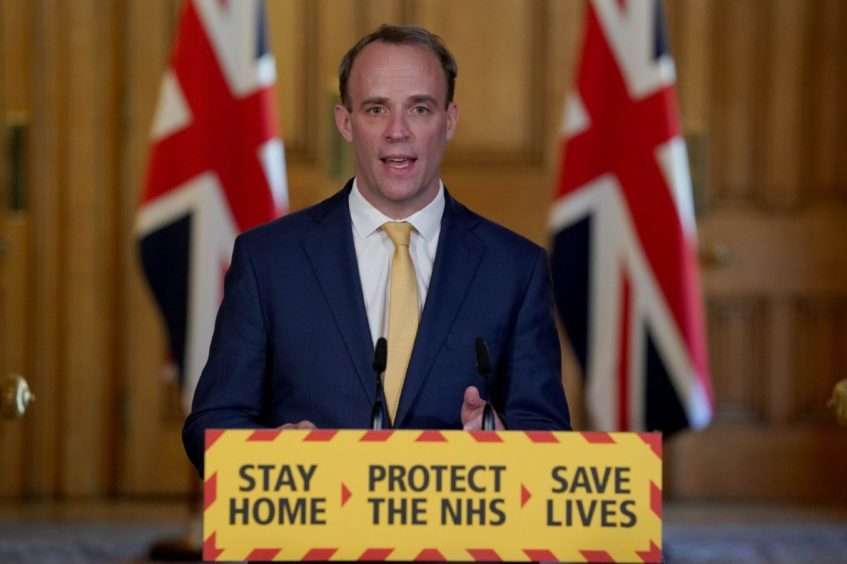 Boris Johnson is a "fighter" and "will pull through", Dominic Raab said as the prime minister prepared to spend a second night battling coronavirus in intensive care.
Mr Johnson, 55, was admitted to St Thomas' Hospital in London with "persistent symptoms" on Sunday and moved to intensive care at 7pm Monday night after his condition deteriorated.
Downing Street confirmed that the prime minister remained conscious, in a "stable condition" and without need for a ventilator.
Mr Raab, who has been deputising for Mr Johnson, told the nation at a Downing Street press conference that he was "confident" the prime minister would be back at Number 10 soon.
The comments came as it was announced another 786 patients had died in the UK after contracting Covid-19 — bringing the total up to 6,159.
In a personal tribute, the Foreign Secretary said: "Many people up and down the country will know someone at work who's fallen ill with coronavirus. It comes as a shock to all of us.
"He's not just the prime minister, to all of us in Cabinet he's not just our boss, he's also a colleague and he's also our friend.
"All of our thoughts and prayers are with the prime minister at this time, with Carrie and with his whole family.
"I'm confident he'll pull through, because if there's one thing I know about this prime minister, he's a fighter and he'll be back at the helm leading us through this crisis in short order."
Mr Raab is standing in for the prime minister "whenever necessary", including leading the daily meetings of the coronavirus "war cabinet".
The Foreign Secretary said the Cabinet had been left with "very clear instructions" from the prime minister and would not "not flinch from the task at hand at this crucial moment".
The comment came after another member of the Cabinet, Michael Gove, revealed he had gone into isolation after a family member showed symptoms of the virus.
Posting on social media after a series of interviews, he said: "Many thanks for kind messages. In accordance with the guidance, I am isolating at home after a member of my family started to display mild symptoms of coronavirus on Sunday.
"I have not displayed any symptoms and am continuing to work as normal."
A key measure in the fight against coronavirus has been the UK-wide lockdown, which was initiated just over two weeks ago.
It was previously suggested restrictions could be reviewed as early as next Monday, if the data showed positive signs.
Mr Raab poured cold water on that, however, saying: "We're not at that stage yet. We will take any decision when the time is right based on facts and the scientific or medical advice.
"Our number one and our overriding focus right now is to remain absolutely focused on conveying the key message, which is everyone needs to keep adhering to this guidance."
The government's chief scientific adviser Sir Patrick Vallance offered a little more optimism, saying it was "possible that we're beginning to see the curve flattening".
He added, however, it would be another "week or so" before he could be sure.
Sir Patrick also said there were encouraging signs because there had not been "an accelerated take-off" in the number of hospital admissions."
He said: "Again, it's possible that we're beginning to see the start of a change where we might see numbers flattening off."
Sir Patrick said the number of deaths in the UK from the disease was broadly in line with countries such as Italy, Spain and France, but that they should start to fall in the next two to three weeks.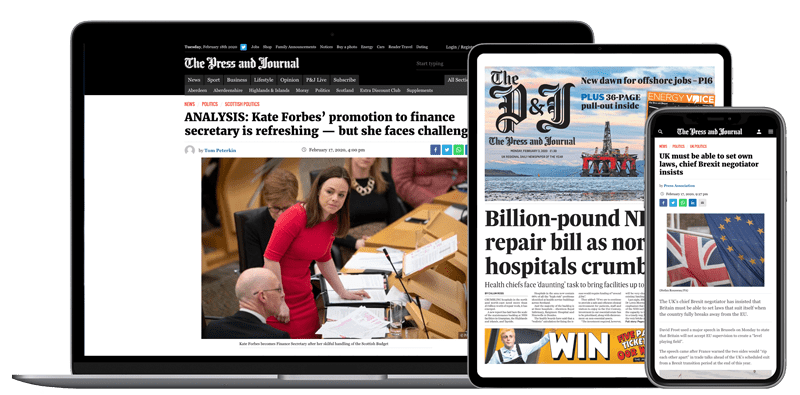 Help support quality local journalism … become a digital subscriber to The Press and Journal
For as little as £5.99 a month you can access all of our content, including Premium articles.
Subscribe