GALLERY: Scotland faces 'bleak' future without Wildcats, capercaillie and hedgehogs, charity warns
Scotland must act quickly to prevent a "bleak" future without wildcats, capercaillie, black grouse and hedgehogs, a leading charity has warned.
While the country will host two major international nature conferences next year, WWF Scotland says it must also turn its attention inwards to prevent the further decline of its most precious species.
The charity's State of Nature report earlier this year found that one-in-nine Scottish species is at risk of extinction.
This includes the Scottish Wildcat, which is critically endangered, while the likes of hedgehogs, Orkney voles and dingy skipper butterflies have been categorised as "vulnerable".
WWF Scotland is now calling for urgent action, including increased funding and the setting up of a nature recovery watchdog to reverse the natures of these endangered species.
It is also suggesting that the country's peatlands could be restored, as these store up to 20 times more carbon than all the trees in the UK while providing a habitat for unique species.
Scotland will host UN talks on the future of global nature protection in April, with the major Climate COP26 conference taking place in Glasgow in November.
Lang Banks, the director of WWF Scotland, said: "Important decisions will be made here in Scotland in 2020 about the future of nature around the world and the links to the climate crisis.
"That's why it's so important we have our own house in order.
"This means stepping up ambition to restore our amazing nature. We cannot tackle the climate crisis without addressing the emergency facing our most precious species.
"We need new action and funding for nature, environmental legislation with bold targets and a strong watchdog to hold the government legally accountable for halting and reversing the loss of our precious habitats and species."
Paul Walton from RSPB Scotland, who was also the lead author of the State of Nature Scotland report, said: "With two key global conferences, on biodiversity and climate, both happening in Scotland in 2020, the eyes of the world will be on our country.
"How we prioritise, support and fund the twin climate and nature crises and how we use our ingenuity to find innovative solutions that genuinely deliver for both will be under scrutiny."
A total of 11 Scottish species are "under pressure," according to WWF Scotland.
But the charity says lessons can be learned from the past to help populations recover.
Currently the Scottish Wildcat is deemed critically endangered.
The red squirrel, Capercaillie, pearl-bordered fritillary, cloud living spider, bog hoverfly and northern blue damselfly are endangered.
Meanwhile it has found the dingy skipper butterfly, hedgehogs, black grouse and Orkney vole are all vulnerable species.
In the 1970s, many otters in the UK died from pesticide pollution in waters, with colonies – or rafts – generally only found in the cleanest rivers in north and west Scotland.
However the species has begun to flourish again, largely due to river clean-ups and improvement in water quality.
Elsewhere there was a "dramatic decline" in pine martens in the 19th Century due to both habitat loss and persecution.
The population was mainly confined to the north-west Highlands, until they were given legal protection in 1988 and began to spread to the rest of the country.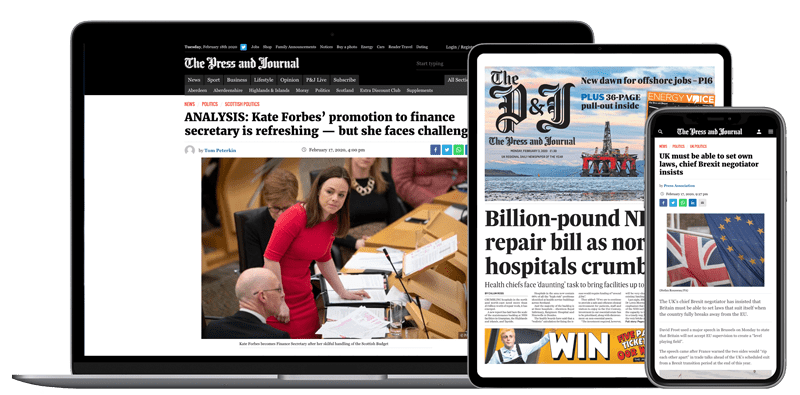 Help support quality local journalism … become a digital subscriber to The Press and Journal
For as little as £5.99 a month you can access all of our content, including Premium articles.
Subscribe