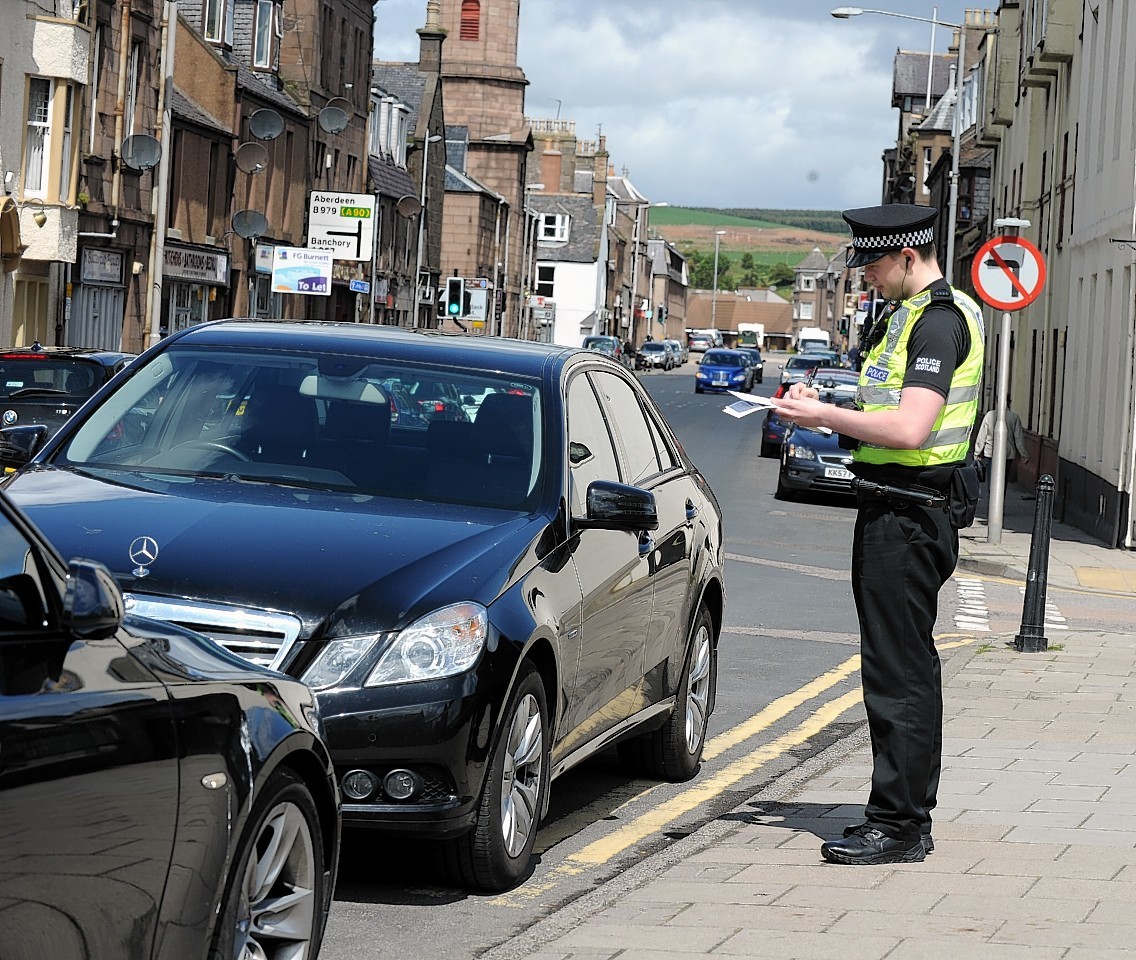 More than 21,000 drivers across Aberdeenshire and Moray have been stopped in the last year as part of a road safety crackdown.
Police launched Operation Cedar (Challenge, Educate, Detect and Reduce) last May, and have now revealed the figures behind their first year of the exercise.
As part of the campaign, officers have stepped up their patrols on the six roads they have identified as a priority, based on accident statistics and concerns from the community.
The Press and Journal can today reveal that enforcement action was taken against 21,147 drivers between April 1 last year and March 31  – the equivalent of 1,762 a month – for offences such as driving without a seatbelt or using a mobile phone, vehicle defects, or speeding.
Of those, 4,541 motorists were stopped on the A90 Stonehaven to Fraserburgh road, making it the worst. Other roads with the highest number of stops were the A further 2,889 were stopped on the A96 Aberdeen to Elgin, with 2,889, the A944 Aberdeen to Alford with 2,546, and the A98 Fraserburgh to Fochabers with 1,206.
For the latest phase of Cedar, the roads officers will focus their efforts on are the A947 Aberdeen to Banff, A941 Elgin to Rothes and the A952 Toll of Birness to Fraserburgh, as well as the A90, A96 and the A98.
Superintendent George Macdonald said: "The reason we're targeting these roads is based on our collision statistics and feedback from elected members and local community concerns.
"There are continued concerns based on collision information from last year that drivers continue to use mobile phones while at the wheel and fail to wear their seatbelts. My officers will be targeting those areas throughout the coming year and I make no excuse should any driver find themselves on the receiving end of a fixed penalty notice and points on their licence if they are caught.
"I'd rather that than the officers breaking the news of another tragedy to another family."
Patrols have also been carried out in areas including Lossiemouth, Fochabers, Banff, Newmachar and, for the next two weeks, Stonehaven, to tackle speeding and dangerous parking outside schools in response to community concerns.
Constable Colin Logan urged motorists to think twice about where they parked, adding: "There is always the potential that a child could run across a road and a car parked in a restricted area could lead to a motorist being unable to see a child crossing until it is too late."
Operation Cedar
According to the Operation Cedar figures, there were 27 fatalities on the roads in 2014, 226 serious and 449 minor accidents.
By April 30 this year, there had been six fatalities, 52 serious and 111 minor accidents.
The average age of those involved in fatal collisions last year was 51.
Superintendent George Macdonald revealed that nine of last year's fatalities were down to drivers being distracted or going at excessive speed for the conditions.
A further five were due to health or medical issues, and Supt Macdonald said fitness to drive applied "right across the age spectrum".
He urged people to challenge their loved ones' ability to drive if they have concerns over health, either permanently or temporarily.
He said: "It's fair to say that we all have to take responsibility on the roads to ensure we look out for other road users, particularly those who are vulnerable, such as children, cyclists, motorcyclists and pedestrians.
"I would appeal to any family member who has any lingering concerns about someone's ability to drive, be that permanently or temporarily because of physical health or a medical condition, to do the right thing and protect them and others by encouraging them to surrender their keys.
"We're not complacent about any group as statistics can change very quickly. We never forget that behind these numbers are families' loved ones and colleagues who will struggle for the rest of their lives to come to terms with their loss and tragedy.
"That's why it's very important that families and friends have open and frank discussions about road safety. The more people consider the impact of their actions and driving behaviour, the more likely it is that the situation will change."