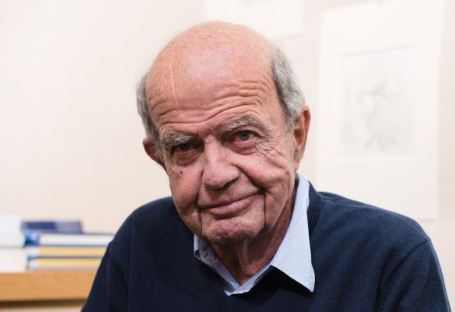 His works have been a staple of children's shelves for decades, entertaining and delighting youngsters across the world since 1963.
Author John Burningham wrote and illustrated more than 30 picture books during his career, including the award-winning Mr Grumpy's Outing, The Extraordinary Tug-of-War and, more recently, Motor Miles and The Way to the Zoo.
He also collaborated with James Bond creator Ian Fleming to create Chitty Chitty Bang Bang and would later see both it, and his 1984 book Granpa, transformed into magical adventures on the big screen.
Mr Burningham studied illustration and graphic design at London's Central School of Art and Design and graduated with distinction in 1959.
He began his career designing posters for London Transport, before he was thrust into the spotlight with the publication of his first book Borka: The Adventures of a Goose with No Feathers.
The title was awarded the prestigious Kate Greenaway Medal, which is given to the best British illustrated children's book each year.
And in 1970 Mr Burningham became the first author to win two medals from the organisation, following a raft of accolades for Mr Grumpy's Outing.
Mr Burningham continued to dream up new and innovative storylines and pair them with his fantastical drawings for the rest of his life.
His last work, Motor Miles, was published in 2016, but he had continued to seek inspiration after with seemingly no desire to ever slow down.
He died on Friday after contracting pneumonia.
We are so sad that John Burningham, author-illustrator of many hugely-loved children's books, has passed away. John was a picture-book pioneer and an inspiration. He will be missed by all who had the pleasure to know and work with him. Our heartfelt condolences go to his family. pic.twitter.com/SUZfQFd73a

— Penguin Books UK (@PenguinUKBooks) January 8, 2019
In a statement, his family said: "We feel we've lost a truly wonderful and original husband, father and grandfather, who inspired us, surprised us, and exasperated us in equal measure."
Managing director of publisher Penguin Random House Children's, Francesca Dow, said: "John was a true original, a picture book pioneer and an endlessly inventive creator of stories that could be by turns hilarious and comforting, shocking and playful.
"He never spoke down to children, always treating them with the utmost respect.
"John will be much missed by his publishing family here at Penguin Random House, and our thoughts and very best wishes are with Helen and his family."
John Burningham was a great and generous picture book conspirator; we all learned so much from watching him work and listening to his brilliant conversations about pictures and words.

A vivid brightness has gone out in our world.
We are all truly diminished on his passing. pic.twitter.com/NhHwj8WZGy

— Walker Picture Books (@BIGPictureBooks) January 7, 2019
Last year, reading charity BookTrust jointly awarded Mr Burningham and his wife, fellow author Helen Oxenbury, its lifetime achievement award.
A spokesman for the organisation said: "His wonderful work will live on forever – a stunning legacy and an incredible man.
"We're so glad we could honour him with our lifetime achievement award."
Meanwhile television presenter Floella Benjamin, who often read Mr Buringham's tales during her time fronting a children's BBC show, tweeted: "I so loved reading John Burningham books on Play School and being on the BookTrust panel that awarded him the lifetime achievement award.
"His books are adored by millions and always will be."
Mr Burningham is survived by his wife Helen, their three children and seven grandchildren.