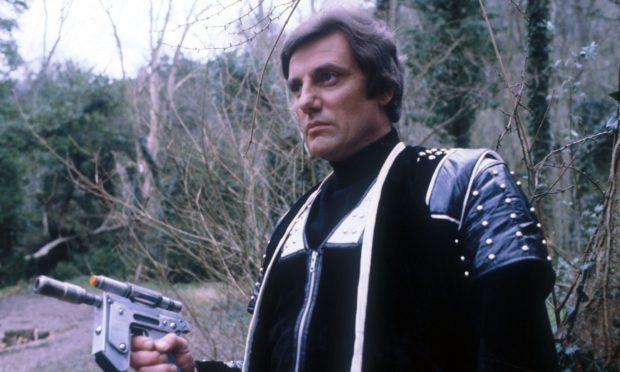 English actor Paul Darrow, best known for his portrayal of Kerr Avon in the seventies BBC sci-fi series Blake's 7, has died aged 78.
Born in Surrey, Darrow studied at the Royal Academy of Dramatic Art, and during this time there shared a flat with fellow actors John Hurt and Ian McShane.
His theatrical career began in repertory in Cheltenham in 1962 when he toured in Chips with Everything in 1963, before spending a year at York Theatre Royal, where he became engaged to a fellow actor, Janet Lees-Price, whom he married in 1966.
Ach, farewell to Paul Darrow. Avon is one of the most complex and fascinating characters in sci-fi, and that was mostly down to Darrow's performance. pic.twitter.com/ySKjFJZLjk

— Mark Donaldson (@Oldmankrondas) June 3, 2019
He went on to work extensively in television appearing as the Sheriff of Nottingham in the 1975 BBC series The Legend of Robin Hood, as Thomas Doughty in TV film Drake's Venture and as Mr Tallboy in the 1973 adaptation of Dorothy L. Sayers' Murder Must Adverties.
However, he was best known for playing sci-fi icon Kerr Avon in Blake 7's – appearing in all but one episode.
When Gareth Thomas, who played Roj Blake, left after two years, Avon became the main character.
Oh this is such a great photo.
RIP Paul Darrow.

#PaulDarrow pic.twitter.com/tHCjzVON9N

— Yvonne Aburrow (@vogelbeere) June 4, 2019
Darrow considered Avon to be "a cross between Steve McQueen and Elvis Presley, with a touch of Richard Nixon thrown in" and his performance made the character hugely popular with viewers.
He also did a variety of voiceover work, narrating the audio book of Terry Nation's children's story Rebecca's World: Journey to the Forbidden Planet and appearing in numerous video games.
In later life, Darrow and Lees-Price resided at Billingshurst in West Sussex, until her death in 2012.
Two years later Darrow suffered his own decline in health, with complications leading to the amputation of his legs.
He died on the morning of June 3.