In a recent radio interview, the writer Russell T Davies mentioned his  television drama, Nolly, which told the story of  the late Crossroads actress, Noele Gordon, being unceremoniously fired, overnight,  in the 1980s.
Despite being adored by many colleagues, TV executives considered her "difficult": a catch-all for stroppy women, or indeed any woman with any kind of opinion whatsoever. (Male actors – like Dustin Hoffman – are "meticulous", female ones "demanding".)
I was only half-listening, until Davies made an interesting observation. "This was 1981 – but it could have been 2021."
Two things struck me. Firstly, Gordon's dismissal from ITV coincided with the period when the BBC turned a blind eye to Jimmy Savile abusing minors. Ten years later, the same happened with DJ Tim Westwood. TV executives back then clearly had a stronger stomach for abusive men than opinionated women.
Secondly, Davies's reflection that there has been no progress in over 40 years might seem extreme, but figures bear him out: this week we were told that four out of five companies still pay men more than women. The "motherhood penalty" is actually worse than in the late 1970s, with mothers earning 69% of fathers' wages.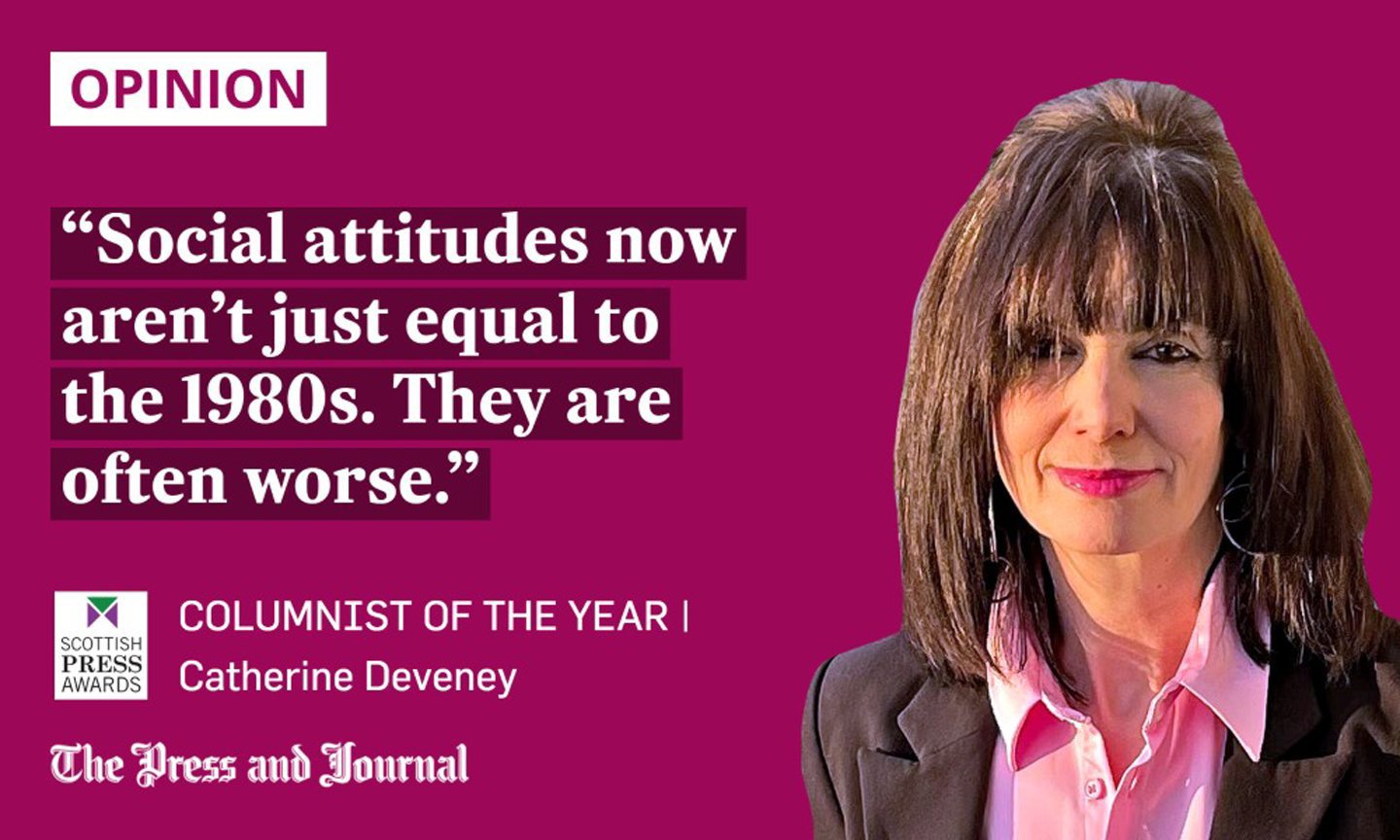 But it's the current rise of social media influencers like Andrew Tate, who has just been released from prison in Romania and placed under house arrest on rape and human trafficking charges, that truly shocks. Social attitudes now aren't just equal to the 1980s. They are often worse.
Back then, misogyny felt irritating, stifling, often humiliating. The catcall, the wolf whistle, the 'ello darlin' dismissal. The dubious questions at interviews. But there was, at least, a sense that the tide would turn, that the worst views were, in general, held by older men whose ship had sailed.
We rode that tide of smirky smiles, of mechanics who spoke to your partner but never looked you in the eye, of Carry On cor-blimeyness, with icy, inner disdain. Because, you know what? Our time was coming.
The tide has turned again
But the tide has turned again, the façade of chivalry that misogyny hid behind long gone. Now it's a high, spring tide of hatred, waves of distorted power and sexual violence breaking loudly on the shore. The worst bit? It is mainly teenage boys and young men involved, searching a complex world for a simplistic recipe for "successful" manhood.
If you are not in the "locker room" of social media influencers, it is easy to underestimate all this. If you are a parent of teenage boys, do you know if they watch Andrew Tate's rants about bitches and "dumb hoes"; his abhorrent bile about women being responsible for being raped? He's been viewed 11 billion times online, more than Kim Kardashian or Donald Trump.
UK schools now hold teacher training sessions on combating Tate-inspired misogyny. One female teacher described her curiosity about the initials MMAS that kept appearing on her pupil's homework. It means Make Me A Sandwich.
"Sexual harassment in schools," writes author Matt Pinkett, who delivers training sessions, "isn't just a problem; it's a catastrophe. Inappropriate sexual behaviour and language are the toxic foundations of a rape culture which towers dangerously above us."
Certainly, this is about power. It's also about money. At first, Tate seems too ridiculous to be taken seriously. Insisting that men should carry swords at home to remind women who is in charge suggested that either he was having a laugh or his shoe size was bigger than his IQ.
But, Tate has successfully persuaded his disciples – who pay him a monthly fee – to post his toxic material. More views, more money, more boy recruits. Classic pyramid model.
The social media analytics tool Social Blade estimates that YouTube makes up to £3.4 million in ad revenue from channels promoting Tate. Research by the Centre for Countering Digital Hate (CCDH) identified 47 misogynistic Tate videos that carried paid adverts from brands, including Schwarzkopf hair products, Vans shoes – and Google ad services.
It makes 1980s-style misogyny seem almost tame
CCDH also investigated the incel movement – men who are involuntarily celibate and blame women – examining 1.2 million posts over an 18-month period. They found that nine out of 10 posters on the site supported violence against women, that rape was mentioned every 29 minutes, and that 53% of those posting comments supported sexual violence against children.
"Incels are not lone wolves or socially isolated," insists CCDH chief executive, Imran Ahmed, who urged the government to pass the Online Safety Bill to ensure social media companies are accountable for their content. "They are in fact enmeshed in highly active communities with a coherent, evolving ideology that has radicalised further in the past 18 months."
Creating a YouTube account for a fictitious, 15-year-old boy instantly generates a string of recommendations that include Tate videos
That ideology makes 1980s-style misogyny seem almost tame. Creating a YouTube account for a fictitious, 15-year-old boy instantly generates a string of recommendations that include Tate videos. Technology is making us less socially sophisticated, not more.
While adult women ridicule Andrew Tate, teenage boys revere him. Unless we combat that movement, it's not looking good for our daughters.
---
Catherine Deveney is an award-winning investigative journalist, novelist and television presenter, and Scottish Newspaper Columnist of the Year 2022