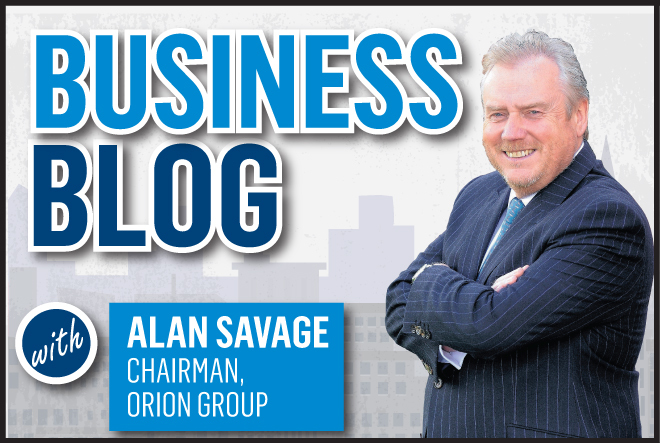 As you sit down to read this article, I'll not long have disembarked from yet another long haul air trip.
Looking for international business has been my driver this year with trips to China, Japan, Malaysia, Singapore and the USA twice this year already with trips to Papua New Guinea and Dubai coming up! I don't count the many trips down to London as international (yet!).
This time it was Florida, where I'd been invited by Kelly for whom we have become a partner. They were holding their Global Leadership Symposium.
Kelly are a huge business turning over $5.5billion. We assist them on several fronts. They are one of the largest workforce solution providers in the world. It's the first time ever that they have invited the CEO of one of their suppliers to address their senior thought leadership teams.
So it wasn't just a great honour for me, but for the whole of the Orion Group too.
I was involved in a Q and A about the theme of "working in partnership and collaboration". For a business like ours, working together is the bread and butter of what we do.
While public speaking isn't my day job having an opportunity to sing the praises of each and every one of our employees, contractors and clients was a pleasure and an honour.
We don't normally have time to sit back and bask in the glory of past accomplishments, but when I've got the chance to say good things about our people, it's not something I'd ever want to turn down.
Of course, I'm not the only businessman with connections to the north-east who was flying in to speak in public last week. In that contest, I was playing second fiddle.
Donald Trump's ascendancy to the top of the Republican Party looks almost unassailable now and if he wins big in Florida on March 15, it's almost a certainty that he'll be home, dry and ready for an autumn showdown with his old friend and rival Hillary Clinton.
I am "hEck" of a glad I didn't put wind turbines in front of his golf course if indeed he becomes the most powerful man on the planet!
What little spare time I had during my trip I spent looking in on the race to the White House.
You can't beat the razzmatazz of stateside politics and it's a certainty that the glitz and glamour of our own impending election contest will pale into insignificance in comparison.
But that's not to say ours is any less important.
So brace yourselves for a barrage of promises, pledges and policies from any and all sides over the next few weeks.
Whatever we think of the last five years in Scottish politics, what is done is done and what will be will be. Sometimes I don't think our political masters get that. While I've never been short of a political bugbear or three, it doesn't stop frustrating me.
It's time to look ahead to the future and to the opportunities that are about to present themselves with all the new powers headed our way.
My manifesto for May? Simple really: confidence and certainty.
Give us the confidence to look ahead to the next five years and the certainty with which to invest not just for the short term but for the long term vitality and prosperity of the country and the region.
We've all suffered enough setbacks in our bid to return the country and our industry to growth, we don't need yet more artificial barriers – whether it's our place in the UK or Europe – to get in the way.
Will I get my wish? I'd like to hope so, but something tells me that it'll be easier said than done.
Bright shoots
Scottish Apprenticeship Week has been and gone a little earlier than usual this year.
It's that time of year when we come together as a country to recognise the significant steps that have been taken over the past decade to grow the number of young people who have chosen the vocational path to professional success.
According to the Scottish Government, there were only 15,000 people starting an apprenticeship in 2007. Now they want to see that figure grow to 30,000 a year by the end of the decade.
We'll leave the politicians to squabble over the figures. That's not my scene.
What I'm more interested in are the benefits that having a skilled workforce brings not just to my business but to our industry and country as a whole.
At a time when doom and gloom pervades our industry, the bright shoots of recovery can be found in the young men and women at the start of their working lives.
Whether they choose to stay in our line of work (and I sincerely hope that they have the chances and the opportunities to do so) as a nation, we are all enriched by having a talented and skilled pool of workers to draw from to meet the economic challenges of today and tomorrow.