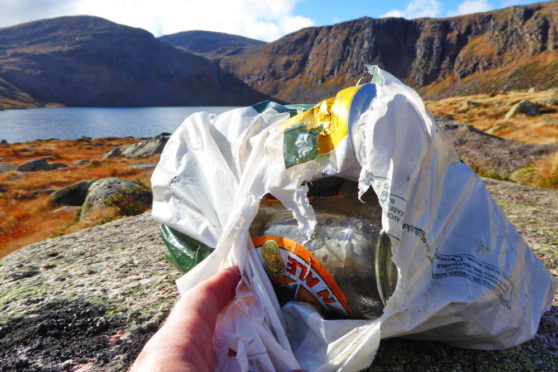 In 2014 I was in the Cairngorms and walking a track near Loch Etchachan, the highest loch of its size and one of the more remote ones in Scotland, when something white caught my eye in the otherwise brown landscape.
It was a plastic bag, deliberately stuffed between two boulders, and when I pulled it out I inadvertently got splashed with yoghurt from some half-eaten pots inside the bag.
I couldn't leave the stinky mess once I'd found it, but because I had nothing to wrap the pots up in I had to stash them in my rucksack's exterior pocket, which inevitably got covered in stinky yoghurt too. I was filming a video blog at the time and didn't hold back on camera, venting my frustration at (a) finding litter in such a remote place, (b) getting my rucksack covered in yoghurt, and (c) having to do what the owner wasn't willing or able to do and carry it out.
After uploading the blog to YouTube someone remarked 'wow, don't have a coronary!' as they clearly thought I was getting far too upset about it. Looking back I'd probably agree, but at the time I was working as a ranger in the Central Belt where clearing up litter was a daily occurrence. Disposable BBQs burning the grass, soiled nappies stuffed into car park walls, or bagged dog poo hanging from trees, not a day went by when I wasn't picking up SOMETHING. And that's fine; it's part of any ranger job and none of us question it. But that autumn walk was my day off from litter picking and I'd chosen to spend it somewhere far away. And litter, aside from the ubiquitous white tissues, was something I just didn't encounter in wild places like that.
That's why my anger bubbled up. I'd naively assumed that arctic-alpine lochs would be immune from littering, either by virtue of their remoteness or because wild places garner such respect. Overhead, the sky was calm, cloudless and blue, but I was under a dark cloud for the rest of the day.
Fast forward four years to a similarly stunning autumn day at the same location, only this time I was there with the express purpose of finding litter. Inspired by the Real 3 Peaks Challenge, an annual event where the three highest peaks (and many more besides) of Scotland, England and Wales are intensively litter-picked by volunteers, we were inspecting Derry Cairngorm and Loch Etchachan. I thought Derry Cairngorm would be the litter hotspot, as folk are partial to jamming packaging and banana skins between the rocks of summit boulder fields and cairns, but happily we found very little. Approaching Loch Etchachan I was sure the worst was behind us, but I should have known better.
We retrieved 6kg of rubbish from the loch and its shores, including sanitary towels, a pit of banana skins, a bag of beer cans, an old tent, all kinds of plastic and a McDonald's sauce sachet among other things. There were also numerous human poo sites, all unburied and each 'hidden' under their own crown of tissues and rocks. Loch Etchachan is a wetland of international importance, designated under the Ramsar Convention on account of its rare nutrient-poor water. So to see poo, essentially fertiliser, at the loch shore was disappointing.
When photos of our haul were shared online they were greeted with universal despair, inviting comments about how littering has got worse in recent years. I thought back to when I first started hillwalking in Scotland, around 2003, and I certainly couldn't remember as much litter on the hill as I see now. But was I simply less observant before I was a ranger? Or because most of my walking is done in winter, is all the litter hidden under snow? I honestly don't know, so I put a poll online and nearly 400 people responded.
Some 8% said there is less litter in the hills than there used to be, 14% said there has been no noticeable change, and 77% said there is more these days. That might sound conclusive but given my memory is appalling, and given each generation's tendency to view the next one as having lower standards, I'm not sure how much I trust any of us to remember accurately. Not that it changes anything, mind. Effort will still go into education and persuasion, but voluntary litter collection will likely always be needed on the hills.
That's something a great many hillwalkers already do, unprompted and unacknowledged, and our hills would be in a real mess without these invisible, unsung heroes. It shouldn't be necessary, of course. That goes without saying. But if we, the people who care about these places don't pick litter up when we see it on the hill, who will?
---
Ben Dolphin is an outdoors enthusiast and president of Ramblers Scotland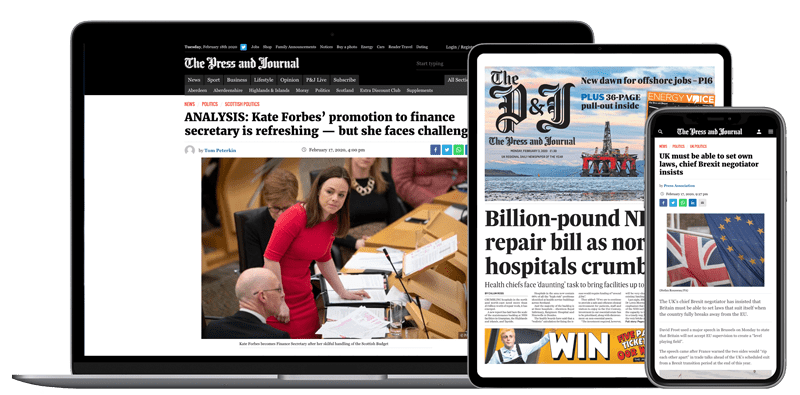 Help support quality local journalism … become a digital subscriber to The Press and Journal
For as little as £5.99 a month you can access all of our content, including Premium articles.
Subscribe