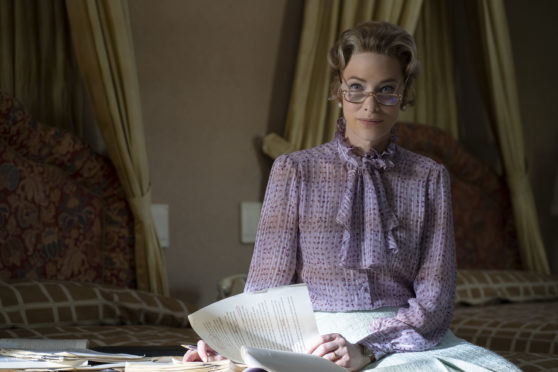 There are, if male readers will forgive me this objective observation, some rather strange men in the world. Apparently, 14% of them in one bizarre study said that they had been turned on by Alexa, the female "assistant" in Amazon's Echo device. Men are from Mars and all that. Though, actually, I guess the explanation is fairly simple. Alexa is a posh and obliging bird who instantly does what she's told without complaint and never says no without sounding devastated that she can't meet your needs. The Ideal Woman.
It has been interesting examining current notions of femininity while watching the BBC's smash hit, "Mrs America", denounced as "not a very good series" by feminist Gloria Steinem. The series depicts Steinem and her friends in the women's liberation movement fighting to secure the American Equal Rights Amendment in the 1970s. They are shown battling the conservative right. They are also shown battling each other.
Steinem's objection is that women are always pitched against one another and shown to be their own worst enemies. I have some sympathy with her view: men may be ruthless in their dealings with other men but it's usually portrayed as good clean ambition. They do not get dismissed as cats fighting in a sack. But perhaps there's a danger Steinem's objection makes women into Alexas: only acceptable when you remove the things that make them real.
Mrs America shows lots of things about women. Their ability to be compassionate or ruthless; principled or hypocritical. To be selfish or selfless; independent or collaborative. To be focused… ambitious… jealous…generous… In other words, a mix. Pretty much like men. We do some things differently – but we are not really from Mars and Venus.
The American right is exemplified by Phyllis Schlafly, a real-life opponent of women's emancipation who claimed to represent traditional values. Except she didn't. Phyllis, played brilliantly by Cate Blanchett, travelled the country giving speeches and stood twice for Congress – hardly the stay-at-home wife. Yet she made a pretence of submissiveness, starting speeches by thanking her husband, Fred, for, "allowing me to be here today".
Mrs America is a time-machine ride back to prim, A-line suits in the colours of sweet peas and nursery blancmange – but is still recognisable. Schlafly wears neat rows of pearls, has not a hair out of place, and speaks through a smile so rigid it looks like rigor mortis has set in while she's still alive. She also has a will of iron and an empathy bypass. It is a striking thing about women who claim they want traditionally "feminine" virtues that, on the whole, they exude the warmth of rattlesnakes.
Why would women oppose liberation? Because they think the system works for them. They don't want to lose the power that they mistakenly assume they possess on the grounds of their sex. They'd rather manipulate their Freds with lipstick and wheedles than reason to get their way. Or control them with arch bossiness. It's the power of the nanny: you end up ruling the nursery but nothing else.
It was, perhaps, most effectively illustrated in this country by Margaret Thatcher. The Queen Bee who didn't want other women round her, who kept her cabinet in line by adopting a manner that suggested if they didn't do what they were told, she might spank them and send them to bed without supper. Lordy, there were even male politicians who were prepared to bend over in anticipation.
She was prime minister but no feminist. So no, it is not Steinem's idea of women battling over ideology, or bartering ruthlessly to achieve their goals, that unnerves me. It's the idea that women's power still has to be hidden to make it more palatable. In a 2018 YouGov poll, only 34% of women said yes when asked if they were feminist. Why would you say no? Unless you're caught in a time warp and wear Phyllis Schlafly, apricot-coloured suits.
Have we moved on since the 1970s? Of course. But that doesn't mean the work of feminism is done. The truth is that a World Bank survey showed there are only six countries in the world that give women completely equal legal rights at work (Ms Britain can forget it – we are not one of the six). A1 professionals are 78% male. A typical economy gives women three-quarters of the rights of men. And only around 7% of countries in the entire world have female heads of state.
Feminism is not about being pro-women but pro-justice and equality. Men are feminists too. One of Schlafly's opponents, the amazing Shirley Chisholm, who was the first black woman to be elected to Congress and run for president, said she was not a candidate for black people though she was black and proud, nor was she the candidate for women though she was female and proud. She was the candidate for the people.
When women really get assessed on merit, not gender, the "Are you a feminist?" question might finally become redundant. Until then, the answer is yes – and my name is not Alexa.