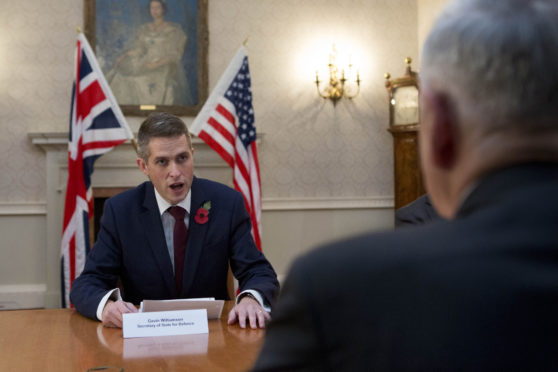 The rotten state of Westminster gives us so very many reasons to be fed up: the slow public suicide of the Labour Party, the holding to ransom of the Tories by hard-right pro-Brexiteers and their frowny chums in the DUP, the invisibility and inertia of the Lib Dems at a time when any decent third party should be gobbling up votes, the interminable squabbling over Brexit, the absence of discussion about practically anything else, Ian Blackford's awful suits…
And so, in this hour of darkness, we should be all the more grateful for the funniest thing to happen to politics in ages.
From amid the Mogadon mediocrity of the May ascendancy, the Jew-baiting extremism of the Corbyn descendancy, and all the dim-bulb gargoyles who populate our modern-day grimocracy, a creation of such comic genius has emerged that he almost – almost – makes it all worthwhile.
I refer, of course, to the Defence Secretary, Gavin Williamson. Williamson is the light relief Brexit Britain needs and deserves. He is our hapless, hell-in-a-handcart country made flesh: one third rampant ego, one third ruthless ambition, one third Stan Laurel, 100% magic. Whichever scriptwriter came up with the wheeze of putting him in charge of the Army, Navy, RAF and our nuclear deterrent – Armando Iannucci? Antony Jay? – deserves a Bafta.
I'm weathered enough now to have watched a few generations of politicians come and go. In the Thatcher era the Commons was still home to an ageing collection of war heroes and those who had lived through the privations of the post-war period. Serious people with serious life experience. The Blair premiership saw the arrival of the modern man and woman – shiny-suited, primp-haired, PR slick, but driven to repair the tattered fabric of the nation. Next came Cameron and the revenge of the toffs.
Nicholas Ridley was a bit of a plonker, John Prescott was only semi-sentient, Oliver Letwin had his 'forgetful' moments. But none of them was ever quite as unwittingly and relentlessly entertaining as Gavin Williamson is today.
It's as if he's read a Ladybird book called 'How To Do Politics', and is putting its advice into practice, page by page. There is a childlike simplicity about the way he goes about his business. He is so ham-fisted, his every move so heavily telegraphed, his intentions so transparently self-serving, that every attempt to enhance his credentials as a candidate to replace Theresa May sees him walk directly into a sucker punch. It's brilliant.
The posturing stems from a desire to look and sound like a political heavyweight, when he is basically a spod on the make. One of his first meetings after being appointed in 2017 was with his then American counterpart, Defence Secretary General Jim 'Mad Dog' Mattis, who had served at the sharp end in Afghanistan and Iraq. Poor Mad Dog. Williamson managed to be photographed with the UK and US flags sticking out either side of his head, as if he was wearing a pair of bilateral deely boppers.
Remember his lantern-jawed response to the poisoning in Salisbury of the former Russian spy Sergei Skripal and his daughter Yulia? 'Frankly, Russia should go away and shut up", said this inheritor of an office once held by Churchill, Attlee, Healey and Heseltine.
Next, he suggested Brexit could 'enhance the UK's lethality', as if the country was leaving the EU so it could declare war on France, or launch a new career as a large, rocky and cumbersome Villanelle.
The Chancellor Philip Hammond had a trade visit to China planned, during which his hosts were expected to lift their ban on British poultry and cosmetics not tested on animals, opening up access to markets worth billions. This was scuppered when the Defence Secretary suddenly declared, a propos of nothing, that he was sending an aircraft carrier to China's backyard in the Pacific.
Every attempt to burnish his tough-guy credentials only serves to confirm he is a glorious mix of Private Pike and Alan Partridge. 'Action' shots published recently showed a grimacing yet determined Williamson taking part in a Royal Marines' drill in the Arctic Circle, which involved jumping into freezing pools of water cut into the ice shelf and then climbing out. He followed this up with a tot of rum and a toast to the Queen, naturally. Shaken, not stirred.
Then there was the time he suggested mounting guns on tractors as mobile missile launchers; the other time he tried to launch his own medals for gallantry (only the Queen gets to do that, old chap); and that other time he proposed Gibraltarians fire paintballs at Spanish ships to scare them off. He still believes he's a frontrunner to replace the PM when the time comes. Quite, quite magnificent. Quite, quite mad.
There's an old quote about a particularly useless Victorian politician that springs to mind: 'he always played the game, and always lost it.' We must hope that Gavin Williamson continues to play the game, and continues to lose it, for some time yet. Without our Secretary of State for Slapstick, everything would feel very serious indeed.
Chris Deerin is a leading journalist and commentator who heads independent, non-party think tank Reform Scotland