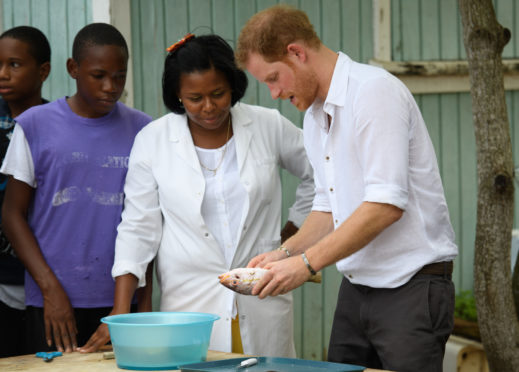 It's when we have really rough weather like this that I always think of the song The Road to Dundee that Calum Kennedy sang in the 1950s and many others have since – but not so well.
There have always been arguments over who actually wrote it and whether they were actually Irish and not even Scots at all. It is just so atmospheric. You have to darkly mutter the words in the curious style of Private Frazer from Dad's Army.
Cauld winter is howling
O'er moor and o'er mountain
And wild is the call
O' the dark roaring sea.
Was that not a line this week on the Western Isles weather forecast on Reporting Scotland? That was my cue to stay in and play Angry Birds. Remember that mobile game from more than 10 years ago that was difficult to understand for anyone over 14 and which became so popular that it ended up as a popular movie? Of course, I only play it when the weather is really bad which means I do play Angry Birds a lot at this time of year.
Apart from the weather, the big news is that the Royal Family is, in some people's views at least, now floundering. Floundering is very apt because there is something fishy about the latest goings-on. We shouldn't just accept what we are told at every turn and we should challenge it at every op-perch-tuna-ty. See what I did there?
Let me get this right. Prince Harry and Meghan didn't tell anyone that they are going to America because her Dad lives there and she doesn't talk to him. Basically, Meghan and Harry are going to work on a zero hours contract. They are joining the gig economy and only going to work when they are actually required. I know van drivers and a few security guards on those contracts – and they hate them. However, we are told it will give the younger, modern royals more time with their family and the Queen is now happy with that.
A few days ago she was said to be immensely disappointed at not being told but Her Maj has now apparently calmed down and the Axminster in Buckingham Palace is not in danger of being chewed – by any corgis, I mean.
The Sussexes are doing it for their family of wee Archie and anyone else coming to his playpen – so everyone will just have to accept that. Er … not me. The Sussexes are taking a cut in income to do the right thing? Er … so they are severing all other ties with UK? Er… Didn't think so. An old bodach in our village used to say salt herring made people gullible. What he was really saying was that his fellow villagers should questions things more than they did. As salt herring gives me heartburn, my own view is that there is a lot going on that we will not know about until further down the line.
Meghan will be blamed, of course. That's what we do in Britain – we always blame outsiders. Women get blamed for everything and they get paid less than men – even at the BBC. What do you mean I am turning into a feminist this week? Feminism is absolutely necessary to try and address the balance. Feminism is not just a fad from a few years ago, you know – like Angry Birds.
Part-time royals? I don't buy that. The older I get the more I look at what everyone in power says and I look at the possible reasons why they say it. If an explanation does not actually make sense, it usually isn't true. This move across the pond has been planned a long time ago and the fact that the Sussexes have a new website, which popped up with their announcement, means nothing. A quick check with website name checker WHOIS will tell you that website domain was actually set up nearly a year ago. It's now oven ready, as our esteemed premier is wont to say.
Women should be respected. I always try to do that. Mrs X has been talking about us getting another van so I have been looking around to see what is available. I asked our trusty mechanic if he knew of any models that would be suitable for her at her age. Nothing doing. The vans that are available here are too old and big for Mrs X to get into. He then pointedly said that I should seriously consider getting one with fewer miles on the clock.
"Maybe," I said, "but Mrs X has been with me for so long, she's almost like one of the family."
Hold on, she is shouting to me from upstairs. No, dear. She is asking whether, because I have been on about fish so much, I have a fish pun with which to end the column this week. No, I don't. I will need time to mullet over.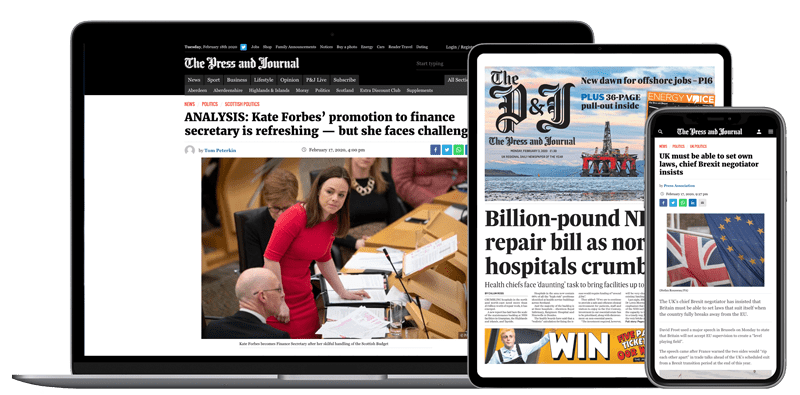 Help support quality local journalism … become a digital subscriber to The Press and Journal
For as little as £5.99 a month you can access all of our content, including Premium articles.
Subscribe