 For the last few days I have been somewhat grumpy.
On Sunday I fell heavily onto my ribs. Initially I was winded but got up and carried on. It was only later that the pain started. Simple painkillers provide little relief as I sulk around the house but it's at night that I really struggle, with the muscles spasming up when I try to lie flat. Sleeping upright on the sofa wasn't fun and the night hours drag by. But ribs heal and I'm already on the mend.
What about those that live with pain day in, day out for years? Incredibly, more than one in three of the population lives with pain that has lasted for more than three months and a third of these people are severely disabled by it..
Some people think GPs only deal with the easy stuff, referring complex problems to hospital. It is certainly true that one of our key roles is being the first point of contact when people are unwell. We assess, treat, reassure, investigate and occasionally refer patients to hospital colleagues. But what happens when this cycle ends having come up with no effective solution or cure? The patient returns to the GP and the really hard work begins. All GPs will have a considerable number of patients living with really horrid symptoms that often defy medical diagnosis and are difficult to control.
Then there is the danger of the treatment becoming the problem. The pain from a headache of short duration is likely to respond to simple painkillers. But if the headache is recurrent and persistent, those same painkillers can be partially responsible for continuing the headaches. Strong opiate medications such as codeine and morphine are very effective in the short-term but used over a longer period will lose their effectiveness, cause more side effects and have the patient living in an opiate fog.
Many people have chronic pain from arthritis in their joints. Modern joint-replacement surgery has worked miracles for many but with success comes increased demand and long waiting lists. For others, surgery is not an option.
Then there's nerve pain. Our nerves are there to warn us of danger and ensure we protect our injuries. What happens when the nerve pain continues past the initial injury, or when damage to the nerves results in them firing off pain signals indefinitely? It's like living with an eternally faulty fire alarm. And almost any part of the body can be affected from the face, chest, abdomen, pelvis and all extremities.
I find these symptoms hardest to treat. I am constantly anxious I may miss a diagnosis that would be easy to fix but at the same time, don't want to subject patients to interminable referrals, waiting lists and investigations that fail to lead to a satisfactory outcome.
The alternative for us as GPs is to explore the symptoms in greater detail and aim to find the small changes that allow the patient to live a bit better with their symptoms. Last week, one of my patients described how even a 10% change in his symptoms meant the difference between being able to function or not.
Living with chronic pain inevitably affects people's lifestyles. Staying in, stopping exercising, poor eating, resorting to alcohol, cannabis and other drugs will all have secondary effects on our mood, sleep, energy, relationships and general health. In addition, the pain will interfere with people's ability to work and cope with the stresses of life. All of this affects mood, leading to problems of anxiety or depression.
Our local Chronic Pain Clinic runs groups where patients learn to understand these issues and a local organisation called "Let's Get On With It Together" has a vision to help people self-manage their long-term conditions by making a plan that is uniquely tailored to them but informed by what has worked for others in the group.
Medicines also have a role. We often re-purpose medicines initially developed as anti-depressants or epilepsy drugs to reduce pain, help other painkillers work and reduce muscle spasms. Any depression caused by the pain will also need treated to avoid it exacerbating the overall picture. Progress is often slow and should be assessed over weeks and months. It is unrealistic that any of these interventions will remove the pain entirely, in fact a 30% drop is considered a success and may mean people can get on with their lives when they previously could not.
Over the last week I have binged on Netflix and You Tube when normally I would have been up and about. Even the office jobs held no appeal with the nagging pain as a constant companion. Maybe a few nights when I yearn to be able to lie flat in the deep comfort of my bed without a yelp of pain is a helpful reminder what my patients are living with, sometimes for months or even years? I am confident I will be back to normal in a couple of weeks, what must it be like if there was no end in sight?
---
Dr Miles Mack is a GP in the Highlands and the former chair of the Royal College of General Practitioners Scotland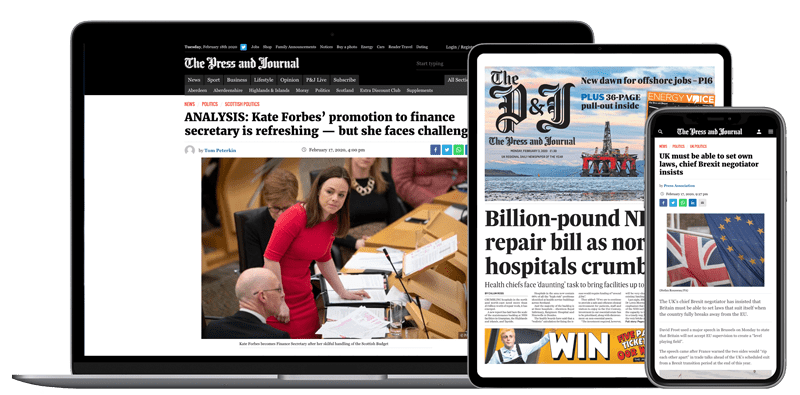 Help support quality local journalism … become a digital subscriber to The Press and Journal
For as little as £5.99 a month you can access all of our content, including Premium articles.
Subscribe