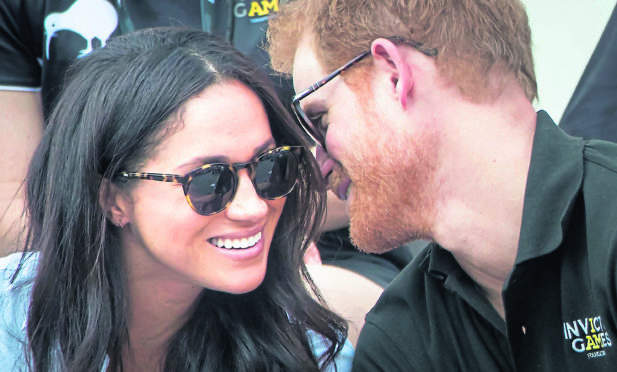 Tanya Souter, Lifestyle Correspondent
I da ken aboot youse, but I wiz shocked fan I read aboot Prince Harry and Meghan stepping back as senior royals and saying they wiz gan tae work tae become financially independent.
It jist shows ye, be it driving an Uber, delivering for Yodel or being Patron of the Royal Commonwealth Trust, mair an mair fowk are looking tae become self-employed these days.
Onywye, there's been a right stooshie aboot their statement cos they didnae clear it wi' his Da or Grunny first, and apparently they're up tae high doh aboot it.
I da ken fit wye it's ony skin aff their nose. I stopped telling my grunny fit I wiz up tae efter I turned 13 year auld. For which, I'm sure, she wiz maist thankful.
Onywye, it sounded like a great idea tae me, so yesterday I decided tae tak a step back fae my family an' a'.
I divided my time atween The Three Lums and Murdo's Bar and worked towards becoming financially independent in William Hills.
Unfortunately 'at didna pan oot, so it's just as weel I hid my brainwave.
In the wake o' the Sussexes bombshell news, nae tae mention a' yon cairry on wi' Harry's dodgy Uncle Andy, something needs tae be done tae keep the monarchy running smoothly.
They need someb'dy tae steady the ship and fill the vacancy efter Harry & Meghan tak a step back, and OK, if youse insist, I'll dae it.
In fact, I wid be ideal as a replacement for the pair o' them. For a start there's only een of me, so that's a 50% saving richt off the bat.
Also, I'd be a straight swap for Meghan because of a' the uncanny similarities atween us. Jist like her, I dinna spik tae my faither.
Nor wid I, even if I kent fa he wiz. I've daen a bit o' acting in a show wi' a title very similar tae "Suits", (only available on DVD tae certain specialist ootlets).
I also hae my ain tiara. In fact I hae a steady supply, cos I my middle een, Beyonce-Shanice's pal, Britney, his got a Setterday job at Claire's Accessories, and she can get 'em nae handy, ken fit I'm saying?
And jist lik Harry and Meghan, I'm nae yet financially independent, though my Universal Credit will be easier tae replace than the £5 million a year they get fae Prince Charles.
There are even some areas far I wid be better than Harry & Meghan. I'm fine wi appearing in the press; indeed I am frequently name-checked in The P&J. Usually the court reports, but it still coonts.
Mony royal watchers is commenting on the security costs fit will need tae be met by The Sussexes.
I mean, they'll still need folk tae look after em, if they're gan tae be stepping back, cos ye can easy tak a heider daen' 'at, especially in the kind o' heels Meghan wears.
Weel, I widna need a huge costly Special Branch detail, I'd jist tak Big Sonya wi' me fariver I ging, gi'en folk evils, and there'd be nae messing fae naeb'dy.
So come on, royal fem'ly. I ken ye read this paper fan yer up at Balmoral for yer hol'days, I'm ready and waiting for the call. I shall dae my duty.
Efter a', it winna be the first time I've served at Her Majesty's Pleasure.
Shelley Shingles, Showbiz Correspondent and Miss Fetteresso 1983
OM actual G! I see that Burger King has launched a new "Rebel Whopper" that manages to be both plant-based and non-vegetarian!?
The problem is that although the burger itself is made from soya (mind the days when that was just a sauce!?) it comes with mayonnaise (egg-based, who knew?) and is cooked on the same broiler as the usual burgers are made on – meaning that animal fat and juices are seared into it. You know, so it tastes fine.
BK says this is not problem, cos the product isn't aimed at vegetarians but at "flexitarians".
I always thought they were the folk who teach yoga classes and wear their gym clothes all the time but no, it turns out they're people who mainly eat meat but like to switch it up with a meat substitute from time to time, and therefore dinna worry about a wee bit of beef (or, on bad days, the occasional doddie of cartilage) in their soya burger.
They say it's "now" and what their customers want. Some folk have given BK a bit of flak, saying that it's a lame, half-baked idea based on an intellectually dishonest premise and then sold to an unwitting public through aggressive marketing.
So, it perfectly sums up the spirit of the times.
I met Paul McCartney, one of the world's most famous vegetarians, in the early '80s. I was dressed as a patty in a bun, as a spokes-model for a hot food stall at the Kintyre Highland Games.
I offered him a nibble and I'll never forget what he said to me: "I hope you're a veggie-burger."
"No Paul," I replied, "I'm a Sagittarius."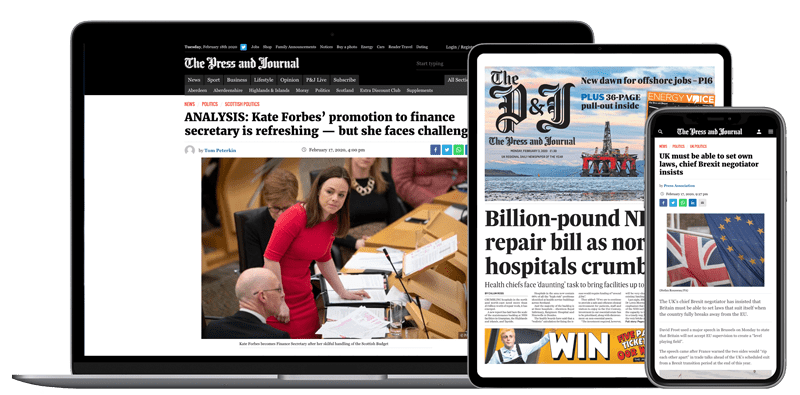 Help support quality local journalism … become a digital subscriber to The Press and Journal
For as little as £5.99 a month you can access all of our content, including Premium articles.
Subscribe