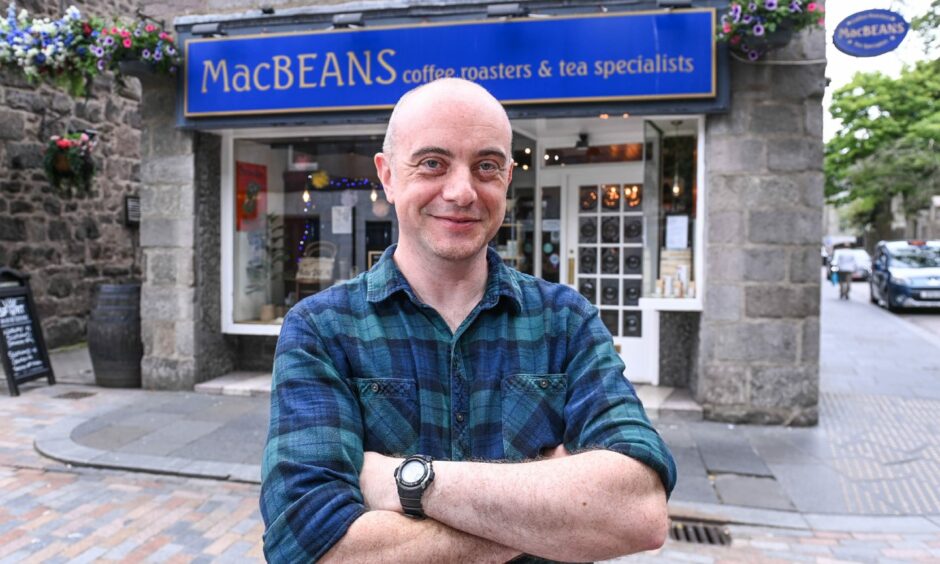 It's been one of Aberdeen's biggest talking points over the last few years – the state of Union Street and the city centre.
Covid, inflation, rising costs and online shopping have made things bitingly tough for businesses.
We've seen pubs, restaurants and shops close while some claim we are being swamped with vape, betting and charity shops.
But now The Press and Journal's data team has launched a new project to test the health of our high streets.
After weeks of work we have mapped the number of shops and empty businesses in key areas of the city centre.
In our project we found some buildings that haven't been occupied for 17 years and that one in five shops are vacant.
However, independent retailers say the centre could thrive if Aberdeen found an anchor attraction.
As part of our project we've launched two new high street trackers which show whether units are occupied or vacant, what they are and if they're closed what they used to be and how long roughly they've been closed for.
We'll be keeping our maps up to date when shops open and close, so we can pinpoint exactly how our city centre is changing.
How many units are there on Aberdeen's shopping streets and centres and how many are vacant?
We mapped out units on Union Street, Belmont Street, Schoolhill and the surrounding streets – George Street, Thistle Street and Chapel Street.
We have also mapped out the floor plans for the four shopping centres in Aberdeen –  both sides of the Bon Accord centre, the Trinity Centre and Union Square.
On Union Street, at the time of writing there was 194 total units, with 151 of those occupied and 43(22.2%) vacant.
In recent months, there's been a renewed effort to return Union Street to the bustling hotspot it once was.
Our Union Street, a taskforce group founded by Aberdeen and Grampian Chamber of Commerce, Aberdeen Inspired, Aberdeen City Council and Opportunity North East along with support from Shell, hopes to re-energise the area, with a three-stage approach.
This involves building a community passionate about the street, hearing ideas about how to make it better and mobilise volunteers to put those plans into action.
A white paper was created earlier this year with 17 different points of things to look into that could make a significant difference to Union Street.
George Street up to its junction with Hutcheon Street has 93 units, 77 of those are occupied and 16(17.2%) are vacant.
Belmont Street has 30 units, 23 of which are occupied and seven(23.3%) are vacant, while Back Wynd has 12 units, 10 of which are occupied and only two are vacant(16.7%).
Thistle Street has 27 units, 24 of which are occupied and three(11.1%) are vacant, while Chapel Street, mapped out from its junction with Union Street as far up as the hotel, has 30 units, 15 are occupied and five are vacant(25%).
The right shops could revitalise Aberdeen
The west end of Aberdeen has a number of independent businesses, from retail to food and drink.
One of those companies is Copper and Gray, which began life on Not on the High Street before opening a bricks and mortar store in Banchory, and expanded into Aberdeen's Chapel Street two-and-a-half years ago. Now, a third location in St Andrews has opened up.
Owner Katharine Canning is passionate about small businesses, and hopes it's something Aberdeen can be known for.
She said: "My whole philosophy for Aberdeen is it needs a thing, we don't have a castle like Edinburgh. We need to draw people in.
"If it was the place to go where you could get quirky places, nice local cafes, where you could go to get all your Christmas shopping done, that would be a good thing. I'm really passionate about it, there's lots that could be done. If we can get smaller businesses set up in the city, it'll make it a more attractive place and then that will attract bigger businesses.
"Our shops should be about bringing something different. It's a bit ambitious, but something like Covent Garden, it just feels lovely and I don't really see why we couldn't recreate that on a minor scale here, especially in the west end where we're so close to HMT and we've got all these little units and making it really worth coming into the area."
She added that there are a number of things that could potentially be done to make the city centre a more appealing place for people opening businesses such as rates relief on units that have been vacant for some time, as well as reduced parking charges for customers to make it easier to visit the centre.
Meanwhile in the shopping centres, Bon Accord has 56 units, 39 of which are occupied and 16 are currently vacant (28.6%), while the other side of Bon Accord, formerly known as St Nicholas, has 18 units on the lower floor, 15 of which are occupied and three are empty (16.7%).
Union Square, the biggest centre, has 86 units, 77 of which are filled and nine are empty (10.5%).
The Trinity Centre has 27 units, 18 are occupied and nine are vacant (33.3%).
Which shops have been vacant the longest?
Many previous vacant units are being used for other purposes, such as pop-up shops, play areas or information services, or may even just be covered up by advertising.
We've estimated how long some of the shops have been empty, and what they were  before.
In Aberdeen, the place that has been closed the longest is Budz Bar, at over 6,000 days- almost 17 years. Located next to Justice Mill on Union Street, it has formed part of planning permission applications in the past, but currently is still unused.
The second-longest vacated building is the well-loved Bruce Millers, also on Union Street, which has sat empty since June 2011, while the former Careers Scotland site, also on Union Street, also shut its doors in 2011.
In the shopping centres, Bon Accord's oldest vacant units used to be Coast on the ground floor, and Yo! Sushi on the upper level, as well as Miss Selfridge in the section that was formerly the St Nicholas centre.
Union Square's Giraffe has been closed since June 2019, while Superdrug has been closed in the Trinity Centre since April 2020.
What types of units does Aberdeen have?
Across all the high streets we tracked, shopping units are the most common, with 109 of the 332 total units currently operating as retail.
One of the long-standing retail businesses in the Belmont Street area is Macbeans, located on Little Belmont Street.
In business for more than 30 years, it was taken over last year by new owner Brian Milne, who previously worked in oil and gas before taking on the venture from previous owner Ian Cukrowski.
Brian said: "The retail situation has been much better than I anticipated, it's a real statement to the fact it's not a chain, and it's something different.
"Independent businesses are what will change Union Street. The city centre shops have to have something unique to offer, it has to be something tangible.
"There's people who have passed through the city, come to MacBeans and know they can get a great product and continue to support us.
"Café culture is being pushed, I think it's to be encouraged, if it's done right it could bring people into the area. The canopies outside Books and Beans and JoJos are a great idea, it's been encouraging to see things that are planned to bring people into the city centre.
"We've seen a big difference since Union Street was re-opened to the buses, weekends are different but an older customer during the week will go where they can get to. I do think they could make this area more accessible, even if it's just for picking people up and dropping them off.
"I was there for the Christmas rush, I saw it get busy in waves. I feel like people are pushing back about shopping online. Our footfall has been higher than the year before, in December we had a record-breaking day for MacBeans."
In the shopping centres, again retail is king with 99 of 150 total units – 66% of all occupied spaces.
Food and drink was the second most popular unit again, with 36 in total. A total of 27 of these were located in Union Square alone, with eight in Bon Accord.
A spokeswoman for Union Square said: "We're always looking at new ways to enhance the brand mix at Union Square which has been reflected by a number of recent openings. Our focus continues to be on delivering for our customers with new brands, concepts and experiences that engage and excite. We look forward to providing more updates in the near future."
Where can I see more?
We will be tracking places opening and closing on the above mentioned streets and shopping centres as often as possible.
You can view our Aberdeen high street trackers which include the shopping streets.
And you can also view our Aberdeen shopping centres tracker.