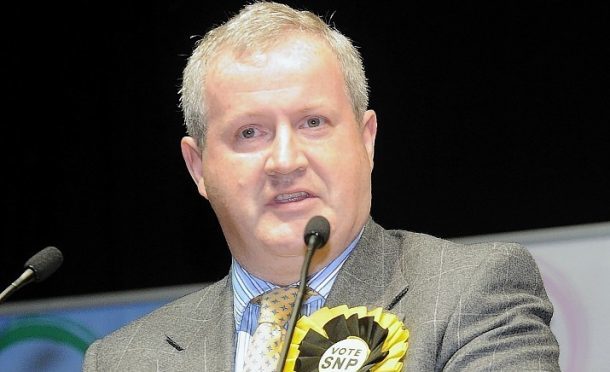 SNP Westminster leader Ian Blackford has admitted a link between the party and data analytics firm Cambridge Analytica is regrettable.
Theresa May's government has come under repeated fire over the last month for links to Cambridge Analytica, including through the Brexit campaign group Vote Leave, headed up by Michael Gove.
But on Tuesday the mud-slinging turned back onto the SNP as former Cambridge Analytica director Brittany Kaiser told MPs on the Digital, Culture, Media and Sport Select Committee there were "pitches and negotiations" with the SNP along with "every major political party".
Now Mr Blackford has confirmed a meeting took place between a consultant working for the SNP and the notorious data analytics firm in London, although he was unable to give further details.
"I regret the fact a meeting took place but that is all it was," the Ross, Skye and Lochaber MP said. "This was a meeting with a consultant, not the SNP, so that made it more difficult to ascertain what had taken place when we examined our own records.
"What I'm pleased about is out of that meeting there was a clear decision taken that there would be no further engagement with Cambridge Analytica because they appeared to be 'a bunch of cowboys' so at least I can take comfort in that.
"Cambridge Analytica seem to be suggesting they have had meetings and dialogue with all parties so we all have questions to answer."
Scottish Labour campaigns chief Neil Findlay has written to SNP chief executive Peter Murrell, husband of party leader Nicola Sturgeon, calling for further information to be published.
And Scottish Conservative deputy leader Jackson Carlaw MSP said: "These are serious allegations and imply that they held secret discussions with Cambridge Analytica despite rushing to point the finger at others when the story first broke."
An SNP spokeswoman said critics should get their own houses in order as Labour had "said nothing" and "the Tories have a multitude of different links to the firm".
"The SNP has never worked with Cambridge Analytica at any point," she said. "The question the Tories and Labour must answer is – did they?
"It's now for these two parties to come clean about their links to Cambridge Analytica."