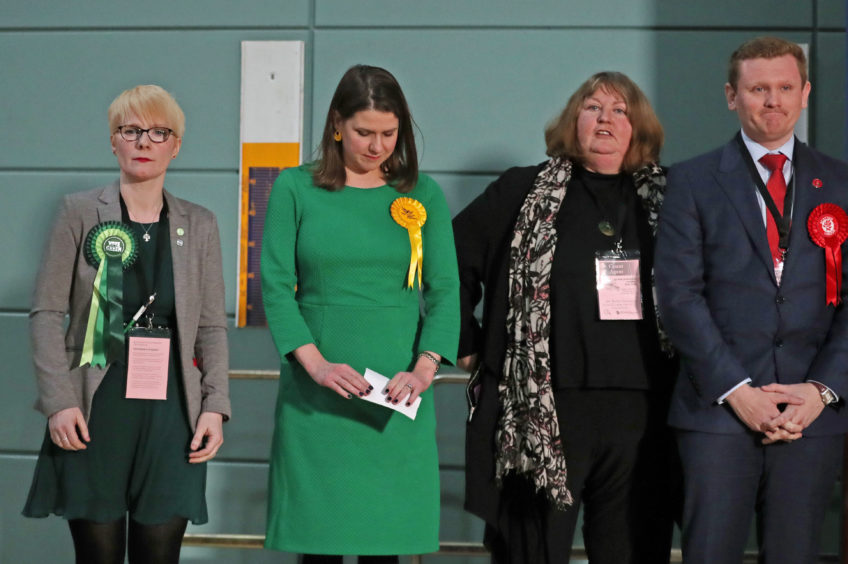 Boris Johnson was on course for a historic victory this morning after voters across large swathes of the UK backed his plan to "get Brexit done".
Conservative victories in Labour's former industrial heartlands in the north of England and Wales helped secure the party a majority in the House of Commons.
The result prompted Jeremy Corbyn to announce he will not lead Labour into another election.
North of the border, the SNP took the lion's share of constituencies and even managed to turf Liberal Democrat leader Jo Swinson out of her East Dunbartonshire seat.
The result prompted Nicola Sturgeon to say that Scotland had a mandate for a second independence referendum.
She said: ""Scotland has sent a very clear message – we don't want a Boris Johnson government, we don't want to leave the EU. Boris Johnson has a mandate to take England out of the EU but he must accept that I have a mandate to give Scotland a choice for an alternative future."
Labour meanwhile looks set for one of its worst election results since World War Two.
Some traditional Labour constituencies, such as Darlington, Sedgefield and Workington, in the North of England, will have a Conservative MP for the first time in decades – or in the case of Bishop Auckland and Blyth Valley – for the first time since the seat was created.
The exit poll suggests the Tories will get 362 MPs, Labour 199, the SNP 52, the Lib Dems 13, Plaid Cymru four, the Greens one, and the Brexit Party none.
Mr Corbyn acknowledged that he had to leave Labour's helm after the result as he criticised media "attacks" towards himself, his family and the party.
He said: "I want to also make it clear that I will not lead the party in any future general election campaign," he said as he accepted victory in his Islington North constituency.
"I will discuss with our party to ensure there is a process now of reflection on this result and on the policies that the party will take going forward.
"And I will lead the party during that period to ensure that discussion takes place and we move on into the future."
Mr Corbyn defended putting forward a "manifesto of hope" that would help wrong the injustices and inequalities gripping the nation and tackle the climate crisis.
"All of those policies were extremely popular during the election campaign and remain policies that have huge popular support all across this country," he said in the Sobell Leisure Centre in Holloway, north London.
"However Brexit has so polarised and divided debate in this country it has overridden so much of a normal political debate and I recognise that has contributed to the results that the Labour party has received this evening all across this country."
Mr Corbyn ran as an outside candidate for the party leadership in 2015 and managed to outlast two Tory prime ministers.
Mr Johnson, speaking from his Uxbridge constituency this morning, said he now had a "powerful new mandate to get Brexit done".
He added: "I want to thank the people of this country for turning out to vote in a December election that we didn't want to call but which I think has turned out to be a historic election that gives us now, in this new government, the chance to respect the democratic will of the British people to change this country for the better and to unleash the potential of the entire people of this country.
"And that is what we will now do, and if we are lucky enough to be returned, as the exit polls seem to suggest, then that work will begin tomorrow… or as I should say, not tomorrow, today."
Lib Dem leader Jo Swinson said she "will be making further remarks later today" after she lost her seat to the SNP.
Speaking from the count, she said: "Some will be celebrating the wave of nationalism that is sweeping on both sides of the border.
"And I do congratulate all those who are newly elected.
"These are very significant results for the future of our country and I will be making further remarks later today."
On a dramatic election night DUP Westminster leader Nigel Dodds – whose party propped up Theresa May's administration – also lost his Belfast North seat to Sinn Fein.
Tory former minister Zac Goldsmith lost to the Lib Dems in Richmond Park.
Downing Street have said there will now be a minor cabinet reshuffle on Monday.
The Withdrawal Agreement Bill, paving the way for Brexit on 31 January, will have its second Commons reading on Friday, 20 December.
A major Cabinet reshuffle will take place in February, after the UK has left the EU, No 10 added, with a Budget statement in March.