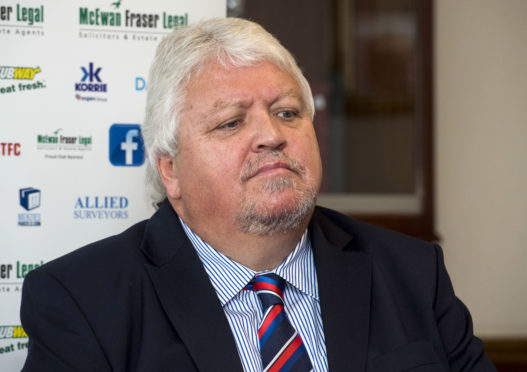 Caley Thistle chairman Graham Rae has dismissed rumours the club could be headed for administration as untrue.
The board has been meeting potential investors to help with what Rae describes as a "cash flow challenge" but it is nothing different to what the club has done earlier in the season.
Speculation was circulating towards the end of last week, among supporters and on social media, that the club was in financial difficulty.
Following relegation, Caley Jags made a loss for the year totalling £422,284. Their financial statements up to May 2017 said they had secured loans to the total of £378,555 and a further £121,445 had been pledged.
Discussions with shareholders and outside investors will continue and the naming rights for the Caledonian Stadium will also be marketed, in a bid to attract additional revenue into the club. Transfer of ownership for the three stands and pitch, from Tulloch Homes, are due to go before Highland Council next week.
Rae said: "I'm aware there's been rumours about insolvency and administration – they're not true. Someone starts a story on social media and before you know it, it's grown legs and it's running. We committed to being more open and transparent and maybe we should have got ahead of it. People are interested and want to know the club is robust. It shows the supporters are loyal and committed.
"We're trying to attract some new people, as well as people that have been loyal to the club in the past. Clubs in the Championship have substantially less turnover, smaller income and don't have supporters from Rangers, Celtic and Aberdeen to rely on. In the last 22 years, comparing how many years the club has made money and loss money, it's two-thirds in the red.
"But we've got a strong balance sheet and at a council meeting next week, we're hopeful approval will be formalised to move ownership of the stands and pitch into the club's name. Writing off the rent for that makes us much stronger."
Rae added that crowd figures and hospitality uptake had not been as high as expected, which had hit the club's projections. Rental arrears totalling £269,107 will be written off once the transfer of ownership on the ground has been finalised.
Offering naming rights to the stadium was mooted towards the end of last year and Rae hopes to have a new agreement in place by the start of next season.
He said: "It's a phenomena that's a lot bigger in England. The challenge now is to bring it to a mutually agreeable conclusion with the parties we're talking to, that generates value on both sides. The most realistic target is by the start of next season."
Plans to celebrate the club's 25th anniversary will be launched on February 24 at the home game with Morton.