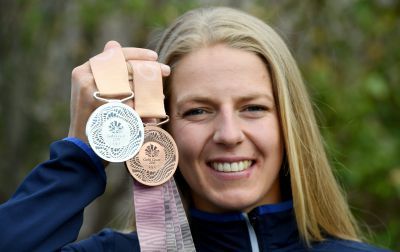 As the minutes ticked by, the lack of another Team Scotland jersey puzzled Neah Evans.
She had been sat at a coffee shop in Dubai airport quietly whiling away the time before the final leg of her journey back from the Gold Coast, a flight to Glasgow. It was only when she looked up at the departure board and realised the time that panic set in.
Evans said: "We didn't get any missed calls. One of the other girls sent me a message saying 'what have you done?' and I was like 'I don't know', so I don't know how I managed it.
"We've all travelled a lot for racing and I've never missed a flight. Normally, there's the Tannoy shouting us but it didn't. We thought it couldn't be this time because they didn't shout us – they would be irate by that point. But the next day we were listening and they were saying final call for this and that. When you're not sure what time of day it is and tired from competition, you're really not with it. I will try very hard not to make that mistake again.
"The irony was, the gate where the flight departed the second time was right outside the coffee shop we'd been in. If it had been that gate the first time, we'd have got it. But because it was so far away, we missed it. It's a good story."
There is no elaborate story behind Evans' slack time-keeping. Simply put, the fatigue of competition and jet lag had caught up with her.
Team Scotland athletes had already flown from Brisbane to Singapore and then to Dubai, before awaiting a third and final flight back to Scotland. Evans was finally on her way home 12 hours later. A planned drive straight back to Turriff was shelved while she got her bearings.
It had been an exhilarating and exhausting fortnight for the veterinary surgeon, who gave up her career to focus on cycling full-time. Her reward was two medals: a bronze in the 25km points race and a silver in the 10km scratch race.
A pre-Games illness meant the bronze came at a cost, "emptying" herself to the point of being physically sick. She dug deep to come from the back of the pack in the points race to claim silver.
Evans said: "Each race had its own challenges. My main focus was the points and scratch races. I had a bit of time for illness so my training wasn't how I wanted it to be. I wasn't sure how my legs would be. The points race came up first and it didn't pan out how I wanted it to.
"I didn't feel well and nearly threw up during it. I went really deep and I don't know where I got the energy from for the sprint, but that got me the bronze medal.
"In the scratch race I was trying to make a comeback in a bunch sprint, so I'd had to do a fair bit of chasing. With 10 laps to go I was at the back and thought I'd messed it up. In the heat of the moment, I didn't have the kick I usually had. But considering how I felt with 10 laps to go, I was wondering how I pulled it out."
Her work in the velodrome was done but there were two arduous road challenges to come.
An eighth-placed finish in the time-trial ended her first week and she matched that result on the final Saturday in the road race. All her training had been geared towards the track and she felt it told.
Evans said: "With the time trial, you usually have a radio to get feedback and general coaching points. It's one of these things I find disproportionately beneficial. I only found it while warming up that we weren't going to have that. It threw me.
"I had a problem with my bike and had to ride in a position I wasn't comfortable. I just thought 'I haven't done the prep, let's just see what I can do'. I managed to tweak one of my calves on a very steep climb, so it meant I was focusing on what have I done, is this going to affect the road race? That's where having a radio helps to keep you focused.
"I only had one day between the track and it. The ride wasn't brilliant but everything that went wrong and having the track cycling in my legs, I was wiped out.
"I did a recce of the road race and thought if it's a difficult race, I'm not going to finish as I haven't done the training. Lucky the race was stop-start which helped me release the cramp. I worked really hard just to stay with the front right until the final climb, where just a lack of concentration showed.
"I went in just at the back of the group, saving myself for the sprint that was coming, and I got stuck behind some slow wheels. While I had the legs to go with the quicker riders, I didn't have the legs to make up the gap that had now appeared. But if you look at the training I did, I shouldn't have been where I was."