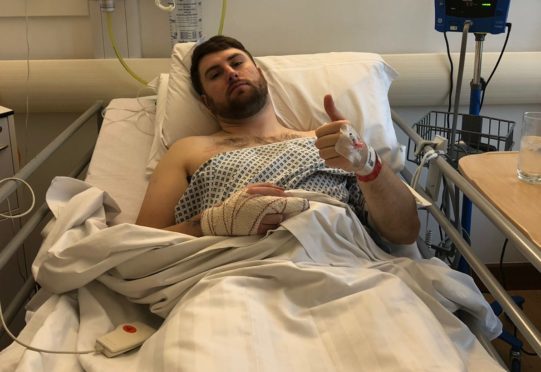 A frustrating 11 months away from Rubislaw comes to an end for Tom Aplin tomorrow as he makes his return from injury on home soil.
Aplin tore the tendons in his right middle finger and required reconstructive surgery, which saw him undergo three operations before he was able to step back on to a rugby field.
Aberdeen Grammar open their National One campaign against Jed Forest, which will be Aplin's first game at their home since the end of the 2016-17 season. He played his first competitive game last weekend in the National League Cup, scoring 20 points in the win over Ardrossan Accies.
Aplin said: "I thought it would be a quick process but I was out longer than if I had broken my leg. I had the back of a guy's jersey and as he pulled away, it popped out of its joint. The doctor at the game put it back in but it was stuck at almost 90 degrees. I went for an MRI and found it needed to be reconstructed.
"There were a couple of big operations – I've had metal pins put in, which is pretty gruesome. It looks a bit gnarly, as I've had 50 stitches, and it's scarred to bits but all the strength is back. I'm looking forward to getting back out there at Rubislaw. Last week was tough on the lungs but it was good to be playing again after so long."
The Grammar centre was injured in a 37-15 loss to Selkirk on September 9 last year. He faces another Borders outfit tomorrow, as last season's National One runners-up come to the Granite City.
Aplin added: "They missed out on promotion last season on points difference. With the Super 6 stuff coming in at the end of the season, we need to finish as high as we can to put our destiny in our own hands. We need to beating teams like Jed at home."
Head coach Ali O'Connor will make no excuse out of player shortages this season. In the past Grammar have faced dilemmas with several players working off-shore but O'Connor anticipates that situation easing somewhat for the new campaign.
He said: "It's a constant battle, as it is for every club in Scotland. We're maybe a bit magnified because of the off-shore industry. But it's just something we need to manage and we've got processes in place to manage that. We're not going to use that as an excuse.
"What's been really pleasing is that we have a core group of leaders, then another group emerging under them. The players that have come in are hungry to play at a higher level and that's what you want as a coach. That competition breeds success and it makes other players raise their games. We need to use that to get the very best out of each other."