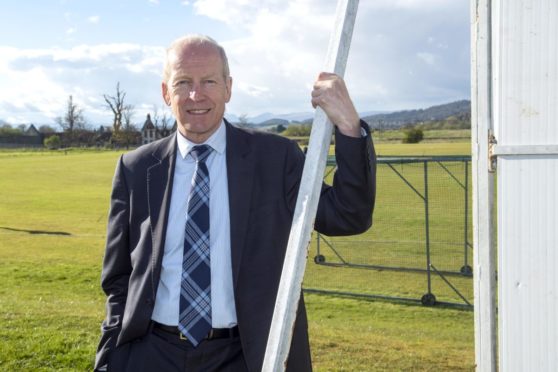 The new chairman of Aberdeenshire CC confirmed yesterday that Mannofield will host a quadrangular tournament in August.
Former Scotland player, Willie Donald, took over in the role from David Hays this week and told the Press and Journal that high-profile international ODIs will return to the Granite City for the first time since 2014.
The World Cricket League 1 event will involve Scotland and the Netherlands, along with two qualifiers from the WCL 2, which is being held in Namibia next month. The schedule has still to be finalised, but it's understood the Scots will take part in six matches at the Shire ground between August 11 and 23.
Mr Donald, the president of Cricket Scotland, said: "This is an extremely important competition for the Scots, but it's terrific news it is being staged in Aberdeen.
"This global event is about maintaining our ODI status and, as the sport expands, we know we will have to be ready for some tough fixtures later this summer."
"Mannofield is an ICC-approved ODI ground and we only have four of these currently in Scotland. Therefore, Aberdeen will remain a principle location for international cricket and if Cricket Scotland's ambition of Full Member status of the ICC is successful, will become a critical component in delivering what would become a much busier and more demanding programme of matches for both men and women."
Donald, 65, added that he was determined to provide a centre of excellence at Mannofield for any men, women or children interested in picking up a bat and ball.
He said: "We want to maintain and strengthen Aberdeenshire CC's position as one of Scotland's premier cricket clubs.
"We also wish to develop women's cricket in Aberdeen as it is the fastest growing sector of the sport globally.
"We also want to develop the club to meet the demands of the modern world and ensure that  different communities of people from players, social members, casual users, families and, perhaps, even other sports can utilise our wide range of facilities.
"In my view, Aberdeenshire CC is a key sporting facility for the city and we wish to ensure that the club's long term health and success is secured."
Donald has no illusions about the challenges facing the sport and recognises how the playing base among young males has diminished in the last decade.
He said: "It is absolutely vital that we continue to develop our coaching and youth programmes. Youth cricket takes various forms these days including Kwik Cricket, our own Red Ball and the very successful All Stars national programme.
"We have yet to introduce CricHit in Aberdeen which is a hugely successful women's training programme based on cricket skills developed by Cricket Scotland women.
"When Aberdeenshire entered its highly successful period starting with winning the league in 1975, it was based on a strong coaching ethic which not only produced a catalogue of league and cup wins, but produced a string of Scottish international cricketers.
"The club flourished and we wish to replicate that success in the modern era."
Donald runs a small executive coaching consultancy focusing on performance improvement and organisational change. Sport remains a key component of his life and he is excited about recent developments in the Scottish game.
But he also has other sporting interests and passions and added: "Live sport cannot be beaten and I attend football matches when time permits and I am keen on motor racing, having become a regular attender at the Le Mans 24-hour race which is one of the world's great spectacles.
"My sporting heroes are too many to list, but particular mention must be made of Alex Ferguson. He is worshipped for his deeds in Manchester, but for me, his crowning glory was taking a provincial British city to European triumph in 1983."