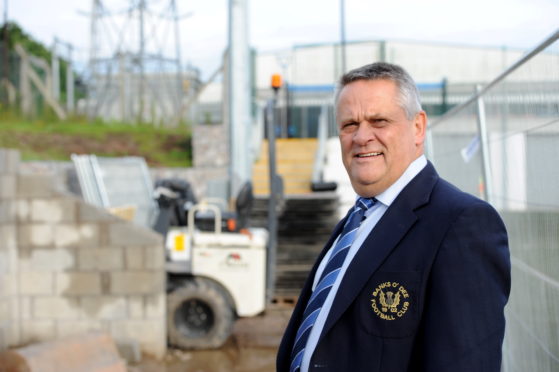 Banks o' Dee are not making any preparations to join the Highland League next season, according to chairman Brian Winton.
The Aberdeen junior club has been touted as a possible replacement should Cove Rangers defeat Berwick Rangers in the SPFL pyramid play-off final.
But Winton says the Spain Park club is not expecting an invitation to join the Highland League should Cove earn promotion to Scottish League 2.
It has been another great season for the Aberdeen junior club, with Dee winning the Superleague title and the Aberdeenshire Cup.
But Winton said: "Irrespective of my views on this subject, the facts are that there is no pyramid into the Highland League at this moment in time.
"In financial and operational planning, making the step from junior football to the Highland League can't be made at the end of a season if a team goes up or down.
"That can only happen if you start off with that objective at the beginning of the year.
"If Cove Rangers don't go up this season then there's no vacancy to fill so it would need the teams in the Highland League to vote to form a pyramid system before that can become an objective for Banks o' Dee.
"You can't make preparations overnight and financial and operational planning for the junior league and the Highland League are completely different. In addition, I have players signed on junior contracts so it doesn't become a feasible option unless you know that there is a pyramid in place and you set up your whole operational background to do that. You can't just wait until the end of May to see if there is a gap.
"No other league apart from the Highland League is part of a pyramid system without automatic promotion and relegation."
Banks o' Dee applied to join the Highland League a decade ago but the league opted to allow in Strathspey Thistle, Formartine United and Turriff United.
Winton added: "We also have to bear in mind that in season 2008-2009, before my time at the club, Banks o' Dee put a considerable investment into the operational and financial planning to get into the Highland League and they were rejected by the members.
"So why would we go and put together a financial and business plan when there's no clear pathway into that league? The Highland League are in the same position as they don't have a clear pathway into the Scottish League until the bottom team in League 2 gets relegated."