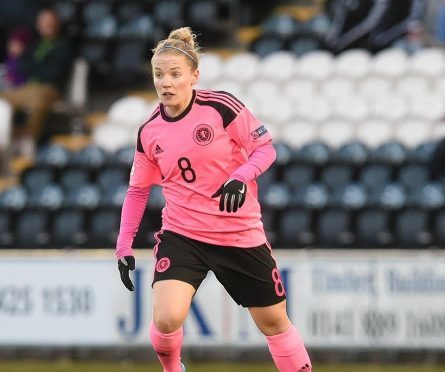 She's the Scottish footballer with the world at her feet.
And Kim Little, the one-time "Mintlaw Miracle" has entered uncharted territory after being named the BBC "World's Women Footballer of the Year".
The 25-year-old Scotland star, who has already played for Scotland more than 100 times, and represented Team GB at the London Olympics.
In the past 12 months, she has glittered everywhere from Melbourne to Seattle at club level and is one of the driving forces behind her country's efforts to qualify for the European Championships.
Little, true to type, was modest about this latest recognition, and is happier with a ball at her feet than flashbulbs popping in her face.
But she has big ambitions as the Scots prepare for a crucial Euro qualifying contest next month.
Little told the Press and Journal: "It has been paramount to our development that so many of the Scottish girls are now playing in professional and semi-professional leagues, whether it is in England, the US, Europe or Australia.
"It gives us the chance to train full time, to fling ourselves into football 100%, and you can see the signs of progress we are making.
"Sometimes, it does get tiring when you have to come all the way from Australia or the United States to join the rest of the squad, but you never complain about being picked for your country.
"We've made a good start to the Euro qualifiers, but we can't get ahead of ourselves.
"Yes, we've managed some big wins, but we were expected to win these games, so the real test will come when we tackle Iceland next week (at the Falkirk Stadium on June 3).
"We're confident in how we are playing, and there is a terrific spirit among the girls, but, to be honest, we've only achieved what we thought we would do at this stage.
"We have to keep kicking on."
These words are Little's mantra!