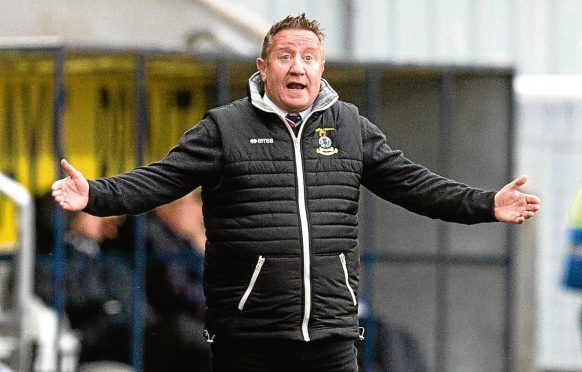 Their hopes may be hanging by a thread, but John Robertson is refusing to give up hope of his Caley Thistle team making the Championship playoffs this season.
Saturday's 2-2 draw against Dunfermline means Inverness must beat Livingston tonight and Morton on Saturday and hope that second-bottom Dumbarton can win against the Pars in Fife to qualify for this year's top four.
It's an unlikely sequence but experienced campaigner Robertson believes he's seen far more unexpected turnarounds in his football career.
His view is simple: miracles can and do happen.
"It was a blow, absolutely no doubt about that," Robertson said. "But if people think we're giving up they have another thing coming. We've got to go to Livingston and win the game.
"Then yes, we need a favour. But from a lad who lost the league title in 1986 with seven minutes to go, these miracles can happen.
"The ball is very much in Dunfermline's court, we know that.
"But we cannot give up – and we won't give up. We'll look to finish the season unbeaten and see where it takes us.
"It may be enough – two wins and you never know."
Inverness looked to be set for a crucial three points on Saturday against Dunfermline before Nicky Clark's 95th minute header spoiled their celebrations.
It extended their unbeaten run to 10 games but maintained the Pars five point advantage in fourth position.
Robertson knows the chances are slim but pointed to losing the league title as a player with Hearts in 1986 as proof that you should never count your chickens.
Going into their final league match at Dundee, Hearts were unbeaten in 27 matches and only needed to avoid defeat at Dens Park to win the club's first title since 1960.
Two late Albert Kidd goals gave Dundee a 2-0 win and handed the title to Celtic on goal difference.
Robertson said: "1986 took a long time to get over. But you move on – eventually – and toughen yourself up.
"Dunfermline don't have as much pressure on them as going for a title, they're at home to Dumbarton who may rest players ahead of their playoff.
"You'd imagine they will get the point they require even if we win our two matches but pressure can do strange things."
Livingston's second spot and place in the play-offs is already assured but Robertson is not expecting any let up from them tonight.
He said: "Sometimes it can be dangerous to rest players because you can lose momentum, but David Hopkin has the luxury of a good 10 days before they tackle the winners of Dundee United and either ourselves or Dunfermline.
"We can't get involved in that – we just need to go down and win the match."