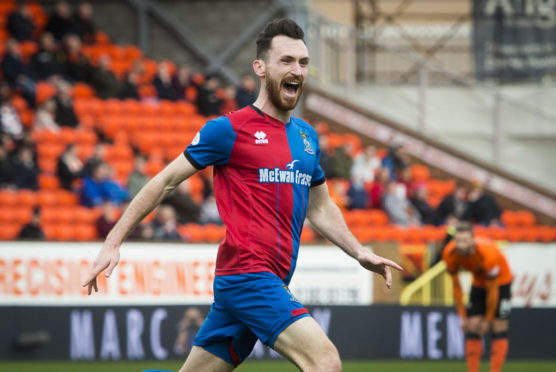 Understated and undervalued for much of his career, this season has been a transformative one for Joe Chalmers and his ascension to Caley Thistle linchpin status.
In many ways, his fortunes epitomise that of Caley Thistle. Cast aside in 2017, undergoing a rocky start in new surroundings, quietly growing in stature before underlining their true potential.
Chalmers was chided for his early displays at left-back – considered his natural position – which were erratic and disconcerting. There was understandable skepticism when John Robertson deployed him in central midfield; Chalmers looked to lack the assurity that comes with such a role.
However, he has quietly proved himself an undroppable member of the team and arguably the most deserving of a new contract.
He knows his duty in the middle of the park. He does not try to do anything flash or outrageous, focusing instead on keeping the tempo of play high and feeding the attacking midfield three, where the majority of Caley Thistle's attacks originate.
Dependability is another key asset, particularly in a small squad beset by injuries. Robertson can count on him not to get booked or injured – he was on the bench twice last season and rested for the IRN-BRU Cup game against Dunfermline this campaign.
He has played 81 of 84 games since the start of last season been booked nine times, while contributing six goals. While it is stating the obvious a little, given he plays central midfield in an ultra-competitive division where attractive football is sometimes at a paucity, the low booking tally is no mean feat.
The fact Robertson counted on him to play wide right, again out of his comfort zone, in one of the most important games of the season against Dundee United spoke volumes.
His left foot is a huge weapon in the team's arsenal too, as Sunday proved. He has added a set-piece threat to his capabilities and his in-swinging corners from the right have proved a very useful outlet for the Caley Jags.
His role is one that is never going to attract too much attention and he is not one to shout loudly about his own abilities. He is softly-spoken and quietly efficient, now a vital cog in the Inverness machine.
You can point to Chalmers, Mark Ridgers, Coll Donaldson and Jordan White, who have been cast aside by other clubs and criticised for their performances in the past, yet now they are central figures to how Caley Thistle want to play.
Their restorative displays are testament to the work they have put in themselves but also the efforts of John Robertson and the coaching staff, who have assembled a team of what could be crudely termed "misfits" from other clubs, on financially-prudent deals and moulded them into an effective outfit.
It is something that will put Caley Thistle back in the national spotlight again next month, four years on from their memorable passage to their first Scottish Cup final.