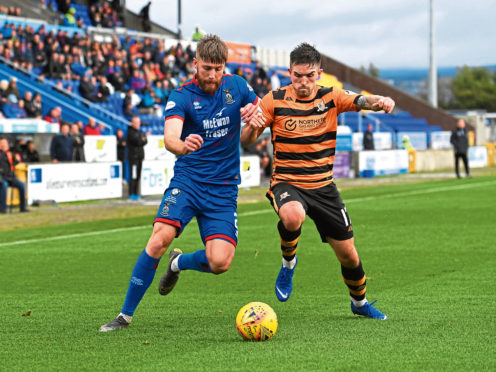 Caley Jags defender Shaun Rooney does not expect any surprises in store when they make the trip to Alloa today.
Inverness will face the Wasps for the third time this season at Recreation Park today, having already defeated Peter Grant's men 3-0 in the Tunnock's Caramel Wafer Challenge Cup in October, prior to a 2-2 draw in the league the following week.
Today's game is the first of three remaining league meetings between the sides this term, while John Robertson's men have been handed a Scottish Cup fourth round draw away to the Clackmannanshire outfit in January.
Rooney insists Caley Jags need no warning about what they will come up against this afternoon, and he said: "It will be another tough game. Alloa just drew with Partick, and we have played them twice already so we know what we are in for.
"They are a good team who like to pass the ball and move, but we will try to get the better of them.
"We will have played them six times by the end of the season – it's getting boring playing them.
"It can make it more difficult, we saw that after we had beaten them in the Challenge Cup game – the second week we drew 2-2.
"We eventually got in front but we just couldn't hold on.
"It's hard, but we just have to try and dig in and get the win."
Inverness returned to winning ways with a 1-0 victory over Dundee last weekend, having failed to score in their previous three matches.
Former Queen of the South defender Rooney felt the win was built on strong defensive foundations, which he feels Caley Jags must continue in order to reduce the 10-point gap on leaders Dundee United.
Rooney added: "We just defended better as a team. From sitting at the side watching it, I thought we played better and passed the ball better overall.
"We soaked up some pressure when they were on the attack, such as Carl Tremarco's header off the line, while Brad Mckay and Coll Donaldson made blocks.
"We just defended better all round. After the game we went above Dundee as well, but to keep ourselves 10 points from Dundee United is big."
Rooney made his return as a substitute last weekend after three weeks out with a hamstring injury, and the 23-year-old is ready to contribute to what he hopes will be an improved run of form.
He added: "I had a hamstring injury.
"I have been at the gym, running on the treadmill and doing weights, so hopefully everything stays good."