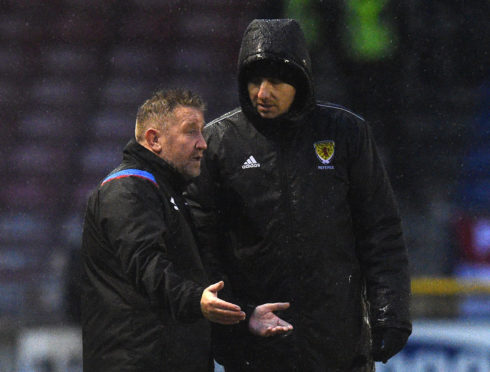 John Robertson believes the whole of Scottish football is awaiting the Scottish FA's written explanation of why James Keatings' Challenge Cup red card was not rescinded.
The Caley Thistle manager yesterday spoke for the first time of his astonishment at the decision by the Hampden Park body's three-man judicial panel.
Despite providing video evidence viewed online by hundreds of thousands of fans and professionals, stoking widespread incredulity, the panel threw out the club's appeal against Keatings' second yellow card.
Despite that huge upswell of support from across the UK, including from BBC pundit Gary Lineker and more than 20 top clubs, Keatings will now miss the final against Raith Rovers on March 28. Inverness Caledonian Thistle have vowed to explore all possible avenues to attempt to reverse the decision.
Television evidence clearly showed the Inverness attacker being bumped to earth by young Rangers Colts' midfielder Ciaran Dickson. In his report to the judicial panel, referee Greg Aitken said that he stood by the decision.
Robertson said: "We're still awaiting written reasons for a decision that nobody in Scottish football can fathom. There's been half a million hits on social media. We feel, as a club, that James is a victim here, but until we have the written reasons we can't really say anymore. I believe the club is exploring other options once that written reason comes in.
"I'm told 500,000 have commented. It's broke the internet. Everybody bar none knows James didn't dive, apart from this panel.
"We need to know how they came to this conclusion – it is absolutely mystifying. I'm incredulous. It is clearly unfair, clearly unjust. We want to do what's right for our player."
Robertson, preparing for tonight's away clash with Dundee United, admits he has been blown away by the support for club and player.
"Clubs who have already questioned the process are questioning it again," he said. "We've had more than 20 clubs, ex-players, ex-managers, current managers, chief executives, press and fans all messaging about what's gone on.
"They're saying it is terrible, a disgrace. We understand the referee's report of what he saw. We accept it is plausible from his position that he thought there was no contact.
"But the very fact he said there was no contact should have been enough for the SFA panel, then, to over-rule it. We want to look at every single avenue to see if he can be available for a cup final he  worked hard to get to."
While it dominated his pre-match interviews, Robertson refused to let the Keatings' row eclipse plans for a massive showdown with Dundee United.
Tonight's Tannadice hosts sit a massive 18 points above second-placed Caley Thistle, but the margin could be whittled down by two Inverness games in hand, as well as a favourable result tonight.
🤷‍♂️🤷‍♂️🤷‍♂️ so now I miss a cup final https://t.co/Uu0yZYUAgz

— jameskeatings (@jameskeatings) February 16, 2020
Robertson said: "We're looking forward to it. United have been by far the most consistent team in the league this year. They put a real good run of 11 straight wins together that really drew them away from the pack.
"Everybody has struggled to live up to their standards – they are very efficient, defend well, work hard and have boys up front to stick the ball in the back of the net.
"The league is not done and dusted – and Robbie Neilson will tell you the same. We've still got 14 games to play and there is still 42 points available to us."
Midfielder Sean Welsh is facing three weeks out with a twisted ankle but there was some relief after initial fears he had suffered a third metatarsal break in a year.