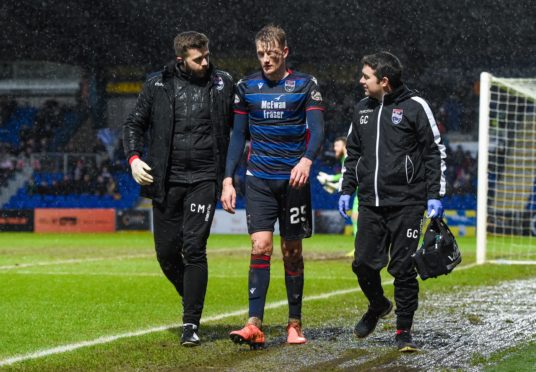 Coll Donaldson is facing a minimum four-week lay-off at Ross County after it was confirmed he had fractured his cheekbone against St Johnstone.
The defender, who arrived from Caley Thistle last month, took a blow to the face late in last weekend's 1-1 draw with Saints.
While the 24-year-old former Dundee United centre-half cost County only a modest five-figure fee in mid-January, he has quickly stamped his mark back in the Premiership.
What remained unclear yesterday was whether Donaldson's fracture would require an operation and potentially an extra fortnight's recovery.
Co-manager Steve Ferguson, preparing for another crucial test at Pittodrie, said: "Coll is through at Aberdeen seeing a specialist. We'll make sure he gets the best of treatment and is properly looked after, giving him the best chance of returning as quickly as he can.
"He will find out today whether or not it needs to be operated on. The scans and x-rays have shown there is a fracture in his cheekbone. I've had the injury myself and it can be a return to play in four weeks, although you may need to wear some sort of protective mask.
"If we can get him back on the pitch in four weeks, we'll take that, but there's no point me guessing because we don't know for sure."
Donaldson joins Ross Stewart, Michael Gardyne, Joe Chalmers and Tom Grivosti on the list of County players unavailable through injury.
In defence, the Dingwall team has faced frequent upheaval with Ferguson stressing: "What we feel, and I'd imagine everyone else would be the same, is you want that consistency and stability in your back-line. That goes without saying.
"Unfortunately, we've not had a great deal of it this season, whether it be through injury or personnel changes.
"You feel you can maybe tinker a little bit more and gamble a little bit more at the top end of the pitch, but you need that consistent back-line that gives you the core of your team.
"It gives you that stability to build on. We've not had it, but to be fair we didn't have it in the Championship either, given the injuries we had last season as well. We're well-versed in dealing with it. We trust the players we've got.
"Coll Donaldson obviously drops out but we have Callum Morris, Liam Fontaine and Keith Watson who can play in that central position. We understand the task ahead and we go and try to attack it the best we can."