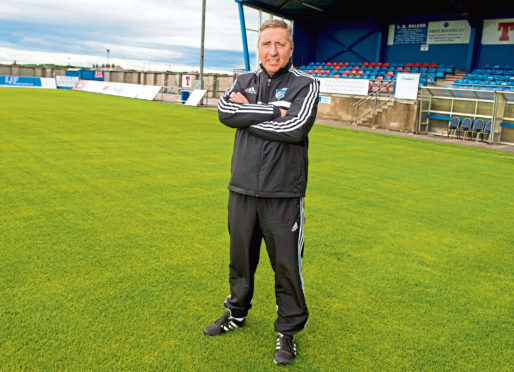 Jim McInally's decision to stay at Peterhead and lead their attempts to win promotion to League 1 next season is the right call.
After a week of agonising over his future McInally, who was ready to fall on his sword for the second season running, has agreed to remain in charge after being urged to stay on by the players and his board.
It is no surprise McInally took his time to mull things over.
He has a good thing going at Balmoor, is respected by his colleagues and has a squad of players who want to play for him. He said it best himself when he stated he loves the club.
But, and it's a big but, he feels like he let everyone down by not winning promotion.
Had the Blue Toon been as poor as they were in the previous campaign then it would be hard to argue against the sentiments expressed by McInally last week but context is key in assessing where Peterhead are as a football club.
The Blue Toon suffered from a lack of depth and confidence when they were relegated to League 2 in May 2017.
Confidence and plain bad luck cost them their chance of winning promotion this month.
They fell one point short of the league title despite winning their final seven games of the season.
In the play-offs they won three of their four matches and still it was not enough.
The play-off game they lost and the match prior to their seven-game winning end to the league campaign proved defining.
Poor defending at Montrose resulted in a 3-2 defeat in the league and gave the Gable Endies control of their destiny. In the first leg of the semi-final play-off, Peterhead lost their leading goalscorer and another central defensive player from an already weakened area.
It's why, in their final game they started the match with their other striker, Russell McLean, having to play centre-back with a less-than-fully-fit David McCracken. A difficult task ultimately proved to be an insurmountable despite a remarkable second-half effort from the team against Stenhousemuir at Balmoor.
Peterhead should be playing in League 1 but they are not. Football can be the cruellest of games at times and no one felt it more than the Blue Toon this season as they suffered not once, but twice in the most horrendous of circumstances.
The knock-on effect has been a week of soul-searching but the club and the manager have come to the correct decision. He remains the best man for the job and you can be sure he will be doing all he can to prove it.
McInally rebuilt the team after a poor season and, while it was not quite enough to take the club back up to League 1, the foundations are in place to make it possible 12 months from now.
May 2017 was horrendous while May 2018 was deflating. But there is no reason why May 2019 cannot be one of jubilation for Peterhead.