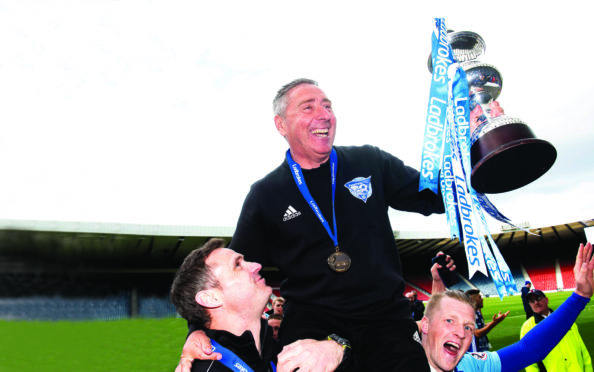 Jim McInally cannot say right now whether he will be Peterhead manager next season.
But what he is only too pleased to disclose is the relief that saw his side get over the line on the final day, eventually securing the League 2 title.
After being talked into staying last summer by chairman Rodger Morrison, following disappointment in the play-offs, McInally looks to be taking some time to consider his future again this summer.
The task of returning the Blue Toon to League 1 became all-encompassing for the 55-year-old and only now, with an end to the season in hand, can he truly relax.
He said: "I haven't thought ahead because I was blinkered about getting us back up again as it eradicates the relegation of two years ago which always rankles.
"I think League 1 is where our club should be and we're now back there. We'll see where we go, but we have a good squad of players here.
"Last year we got 76 points and won nothing and this year we've had to get 79 which is remarkable.
"That's why credit has to go to Clyde and Edinburgh because they set a hell of a tempo earlier in the season."
Jack Leitch's two goals ensured the destination of the title was always going to be Mount Florida, as Peterhead ended their season in style at Hampden Park.
McInally added: "After the Stirling Albion game you wouldn't believe my relief because that was as bad as it gets.
"I know everybody says it's great to win it at Hampden, but we would rather have done it in front of our supporters last week, although we had a fantastic support down at Hampden."