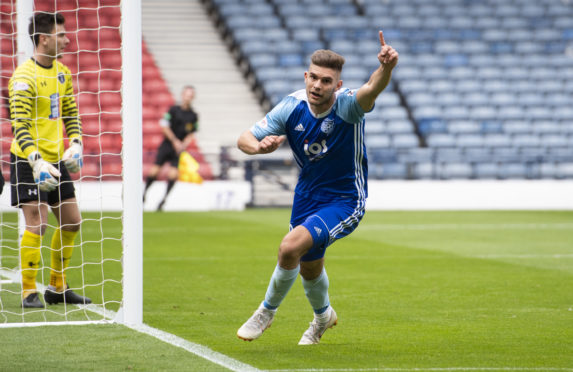 Every Scottish player dreams of scoring winning goals at Hampden Park and Jack Leitch was no different.
It might not have been a cup final but there was no less importance attached to Saturday's win over Queen's Park, with the chance to end Peterhead's two-year stay in the fourth tier of Scottish football in their grasp.
A Queen's Park side with little riding on the game offered meagre opposition to Peterhead's quest, with Leitch scoring twice in the first half to render the events at Central Park, where Clyde needed to beat Cowdenbeath by at least five goals to stand a chance of promotion, irrelevant.
The victory returns the Blue Toon to League 1 and for their double goalscorer in Saturday's 2-0, a day to remember at Scotland's national stadium.
Leitch said: "It was special for me. I thought the header was going to bounce back off the post and Scotty's ball in was great, I couldn't miss. It'll stay with me for a long time. It's the first medal I've won, so it's really special.
"It feels as if it's dragged out the last couple of weeks, drawing games and the disappointment of drawing against Stirling Albion last week. The boys lifted each other up during the week and did the business, which was the most important thing."
Peterhead are now back to where they feel they belong but their appetite for progress has not been sated by this title win. Leitch wants more.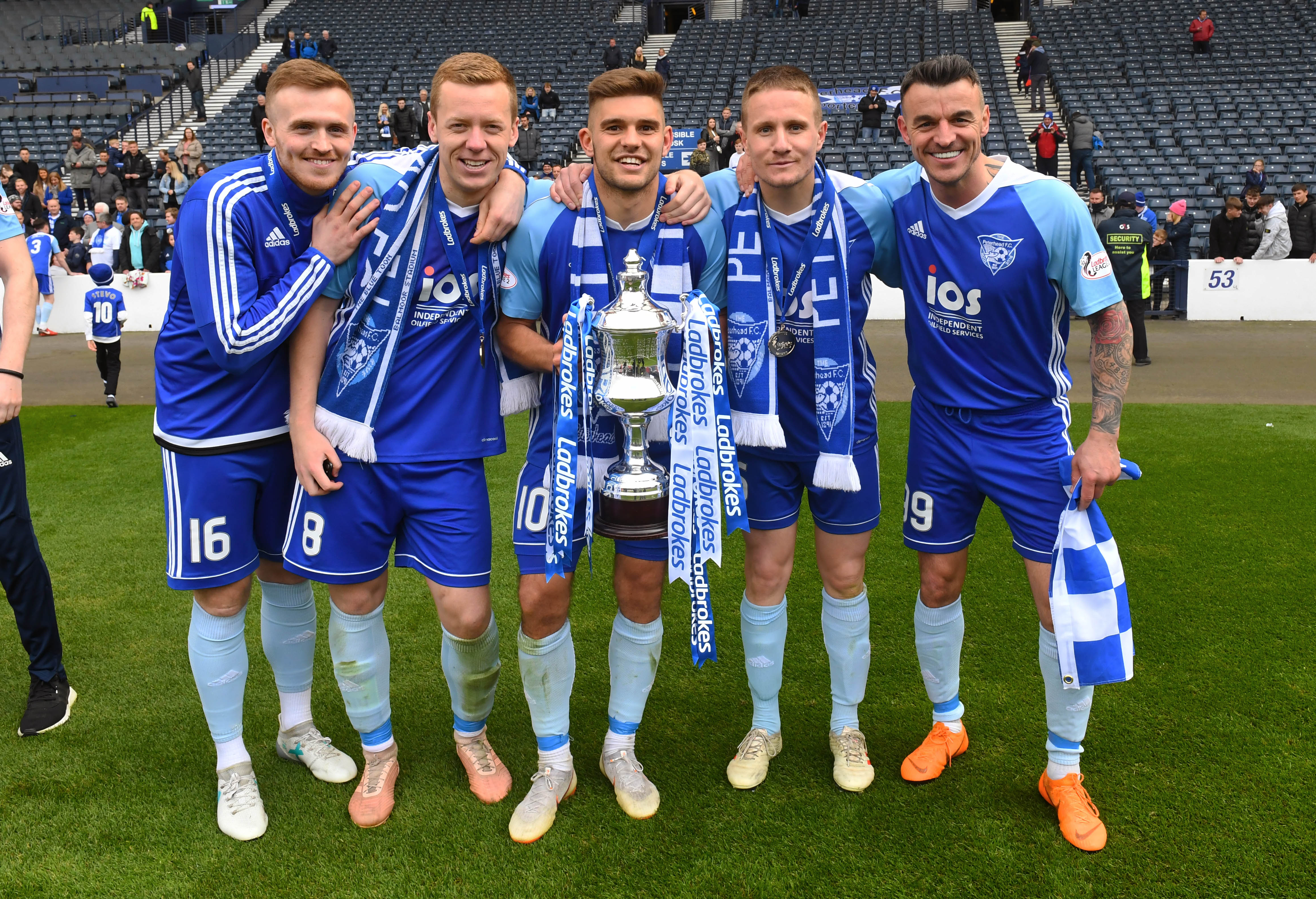 "With the talent we've got we should do well. I played there with Airdrie and I don't think there's much difference between ourselves, Clyde and Edinburgh with your Airdries and your Forfars. Falkirk went down so you've got a big pull there as well – it's a great opportunity to go and play there as well."
The opening half was, blessedly for Peterhead, short on drama. Ryan Dow darted and weaved in and out of striped shirts. Rory McAllister meandered himself into chasms of space and Leitch, the midfielder-cum-winger gobbled up Hampden turf as if his life depended on it.
That hunger from the ex-Motherwell trainee served him well. Jamie Stevenson was afforded time to pick his spot from the right flank and did not disappoint; the delivery found Leitch at the back post and the near post was his ally, helping his header beyond Jordan Hart.
Leitch's recent memories of the national stadium had been less than ideal. He played in the defeat at Queen's Park earlier in the season and witnessed Motherwell lose the League Cup final to Celtic 18 months ago. However, this was to be his day. Scott Brown, a relentless, bustling presence in central midfield, showcased a deftness of touch to exchange passes with Dow and roll the ball into Leitch's path for a much-welcomed second.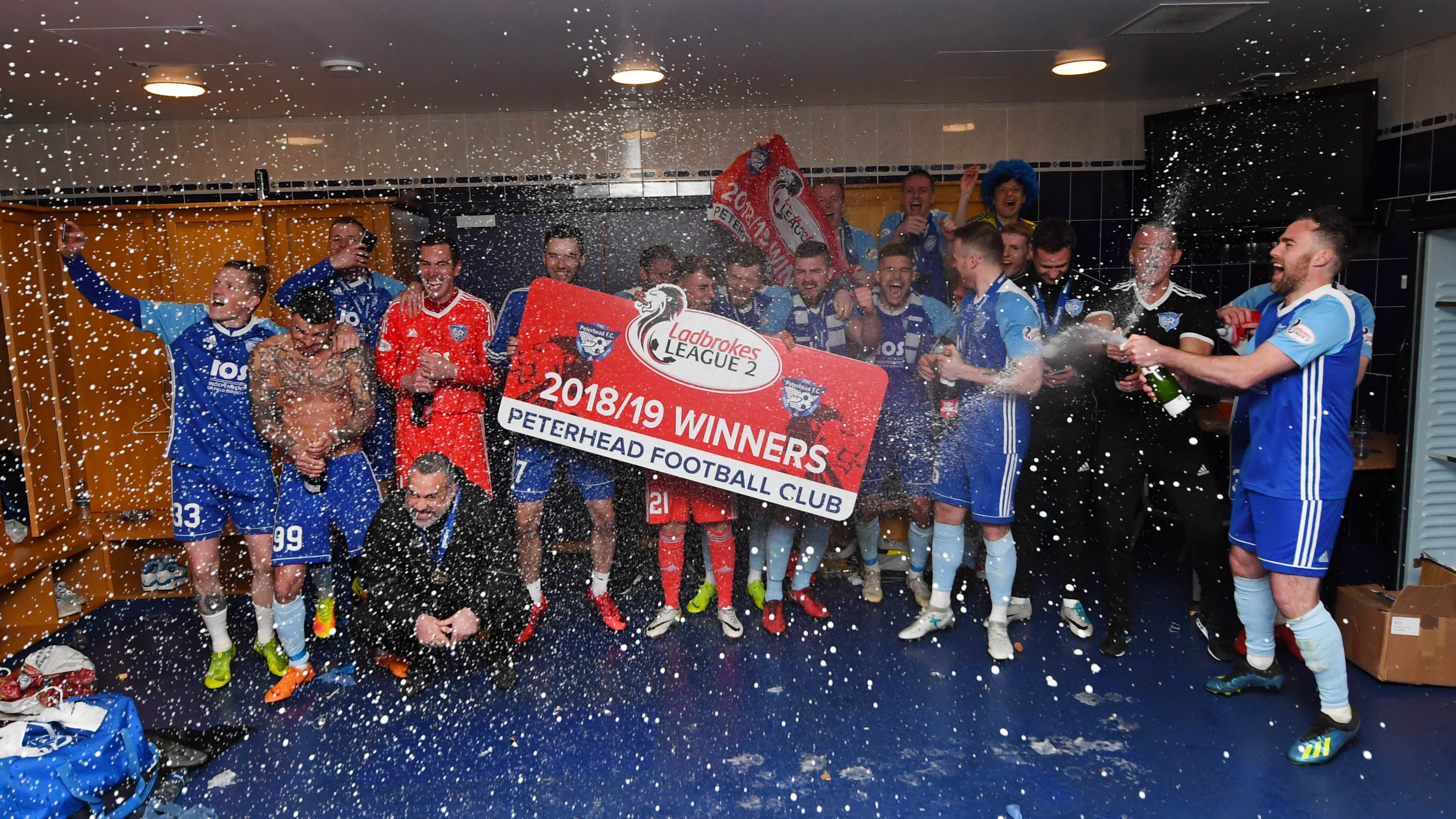 Leitch said: "We got the second goal quickly, which we lacked last week. We battered Elgin and it was still only 2-1, so to get the second goal was really important and it saw us through to the end.
"In the second half the game went a bit scrappy. We saw it out and were happy to run down the clock and get it done with. In the first half we got the goals and played some nice stuff, so I was pleased with that."
Cowdenbeath twice taking the lead against Clyde was a pleasing footnote on the day for the Blue Toon, with Danny Lennon's side running out of steam and being consigned to the play-offs with Annan Athletic, Edinburgh City and Stenhousemuir. Two years on from their own annus horribilis, Peterhead can look down on the rest and smile.
Leitch added: "If Clyde come back and say anything then the five-point gap is there.
"So even with the points deduction, it would have ended up differently anyway."