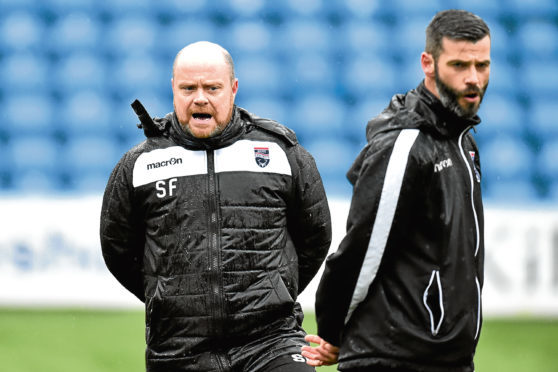 They come across as one of the most relaxed and approachable management teams in Scottish football.
The atmosphere around the training ground and Victoria Park, Dingwall, reflects that image.
But Ross County's young, progressive coaches Steven Ferguson and Stuart Kettlewell have hammered out a list of strict "red line"demands on the Staggies players before crossing the white line competitively tomorrow.
Describing the squad directives as non-negotiables, Ferguson made it clear the highest standards of conduct were expected on and off the field.
For all the velvet glove of informality, there will be an iron fist and powerful work ethic underpinning County's pursuit of an immediate Premiership return.
The exact contents of the club rulebook remain private between management and players but Ferguson said: "It has been great to start afresh at the club after what happened at the end of last season.
"It is great to be able to lay down the ground rules and the non-negotiables, as we call them.
"The boys will be sick of hearing it but it is probably the part of pre-season Stuart and I have enjoyed the most – and we're now seeing it reflected in matches.
"We're seeing the non-negotiables start to be delivered by the players, whether it is style of play, tactical matters or anything else on and off the pitch.
"Basically, we've outlined the way Stuart and I want it done.
"In many ways we have quite a relaxed approach but there are certain lines the players can't cross.
"Players will always test you. We don't want robots or everyone just marching in tune to what we say and do. But there have to be those boundaries, those non-negotiables, and we've spoken about it so much."
County begin competitive action at home to Elgin City tomorrow in a League Cup group also featuring Championship title favourites Dundee United.
While there is a desire to hit the ground running after last season's disastrous run of results, the group games will also double as part of the preparation for Championship action.
The County management aim to strike a delicate balance between chasing victory and improving match sharpness throughout their now fully-fit 22-man squad.
Midfielder Iain Vigurs, snapped up from neighbours Caley Thistle in the summer, has recovered from a groin operation.