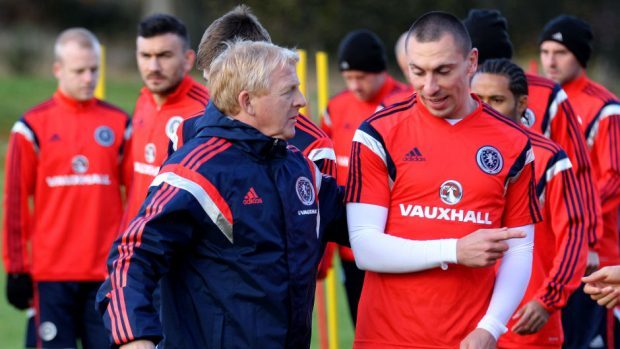 Scotland captain Scott Brown would not have stepped out of international retirement for anyone other than Gordon Strachan and is determined to help the national team manager keep his job by beating Slovenia tomorrow evening.
The Celtic midfielder retired from international football in the summer but overturned his decision in time to face England in November.
Anything other than a victory against Slovenia tomorrow would leave Scotland facing another failure to reach a major championships.
A defeat could signal the end of Strachan's time in charge of the national team but Brown, who has helped Brendan Rodgers' Celtic open up an unassailable 25-point gap at the top of the Scottish Premiership, is desperate to help his former Hoops manager get the qualifying campaign back on track.
He said: "I would have never come back for anyone else. It was just due to our relationship and I told Brendan that.
"Brendan was more than happy for me to go back.
"Whether it is one game, 10 games or 20 games, or however long it is, I will always be here for the wee man whenever he needs us.
"And who would have signed me from Hibernian for £4.5 million? He's the daft one who did. So, I think he's got that bit of faith in me.
"I've enjoyed every single moment with him. His training is what I will try to do, when I'm a manager somewhere else. You learn off the best and he is the best in the business.
"Even though he is getting on, he is still learning and he is still improving.
"He looks at different styles, different formations, and different ways to play. He's not stuck in the blocks, he's a manager who is looking to go places, and he wants to get us to the Euros and to the World Cup."
Even if the national team succumbs to a disappointing result tomorrow, Brown feels it would be impossible to replace Strachan.
He added: "Everyone just wants change here and there but it's the players who go on to the park.
"He puts his faith in us and we are the ones who need to go and do the business for him. A lot of the blame has to go on our shoulders as well.
"Who else can you put in, that's going to come to the Scotland job and stay, and gets 27 players coming along to squads?
"I've been in squads before where you get 10 pullouts before a game. You don't see that happening now, except for injury.
"Everyone has got respect for Gordon.
"As soon as you go on that training ground, you work hard, and you listen. You can have a little bit of banter with him off the park but as soon as you cross that line it is serious, it is make or break.
"That's the reason we need to make sure we go out there and do it for him.
"I know we want to do it for the supporters but we also want to try to keep Gordon here as long as possible, for what he has done for me, and what he has done for a lot of the lads as well."
Brown has won six league titles, two Scottish Cups and four League Cups during a glittering career – as well as being capped 51 times by his country.
But playing at a major international tournament is the one glaring omission from his curriculum vitae.
He said: "It would be amazing. It would be like a dream come true.
"I know I've said it before, and I'll say it again, when I was a youngster I used to watch Scotland getting to the Euros and playing in these games. So, it would be a dream come true if we could do this."