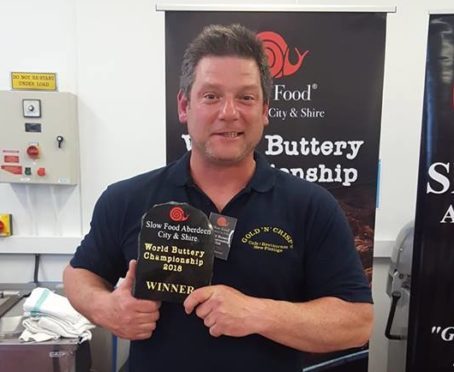 An Aberdeenshire man has risen to the occasion to be crowned winner of the World Buttery Championship in Aberdeen.
Ten bakers competed in the competition, which was organised by Slow Food Aberdeen and Shire to highlight the traditional methods of making the iconic snack.
Mark Barnett, from New Pitsligo, took the top prize at North East Scotland College today.
The 48-year-old, who works at the Gold n Crispy cafe, said he was "shocked" afterwards.
Mr Barnett said: "I started making butteries in the cafe about five years ago, as the local bakery shut and people were no longer able to get fresh butteries.
"I was very nervous about the competition, and hardly slept last night.
"The standard of the competition was very high so I'm shocked that I have been announced the winner."
Slow Food Aberdeen challenged both professionals and amateurs to take part including retail and retired bakers.
Butteries were historically it was taken on-board boats by fishermen sailing from ports up and down the North East coast.
The traditional buttery was a crispy, flaky and buttery product which was favoured by sailors because of its high fat and salt content.
Judge Martin Gillespie said picking a victor had been "extremely difficult."