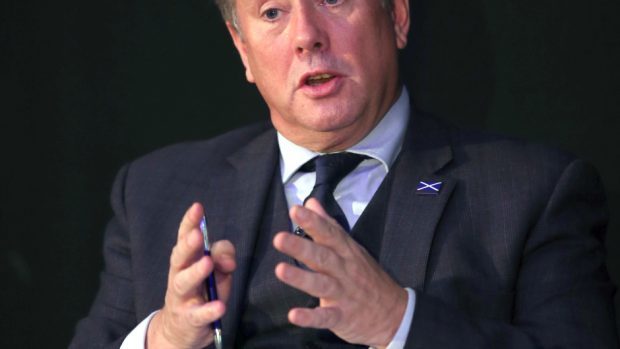 Unemployment in Scotland fell by 14,000 in the first three months of the year to 120,000, according to the latest official figures.
The drop took the jobless rate to 4.4%, which is less than the 42-year low figure of 4.6% for the UK as a whole, announced by the Office For National Statistics (ONS) yesterday.
Economy Secretary Keith Brown said the figures showed Scotland's labour market was continuing to "perform well in the face of significant economic challenges."
The statistics show Scotland's unemployment total, including those out of work and not eligible for benefits, from January to March this year, was 48,000 lower than during the same period in 2016.
They also revealed that over the first three months of the year the number of Scots in work rose by 41,000 from the first quarter of 2016 to 2,620,000.
In Scotland 74% of the workforce are in employment, which is slightly lower than the 74.8% recorded across the UK as a whole.
The number of Scots out of work and claiming jobseeker's allowance increased by 200 last month to 48,200.  The figure is 9,400 lower than in April 2016.
Mr Brown said:   "Unemployment is down, employment is up and Scotland's youth unemployment rate is the fourth lowest in the EU. This is welcome news.
"We will work to support employment and our priority remains developing the correct conditions for economic growth, including those taking forward our multi-billion pound infrastructure plan and the Scottish Growth Scheme.
"We will also continue to tackle issues around inactivity in the labour market."
The figures were welcomed as "very positive" by Liz Cameron, chief executive of the Scottish Chambers of Commerce.
She said:  "Scotland's businesses are working hard against some pretty strong economic headwinds right now and are continuing to seek the talents that they need to succeed, both by recruiting new staff and through upskilling existing workers."
Ms Cameron added that businesses needed support in their efforts from a "coherent" UK industrial strategy backed by the Scottish and Westminster governments.
CBI Scotland director Hugh Aitken said the fall in unemployment was "encouraging" and called for a competitive tax regime to attract investment against a background of "tepid" economic growth.
Colin Borland of the Federation of Small Businesses (FSB) said the "impressive" job figures did not show the "wide gaps between our most prosperous communities and those left behind."