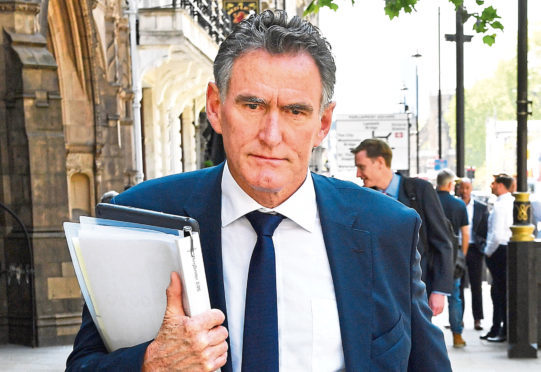 Royal Bank of Scotland (RBS) posted a rise in third quarter profits yesterday, but suffered a hit to its share price after warning over Brexit.
The bank posted a 14% increase in profits to £448million in the three months to September 30.
But RBS also took a £240m impairment charge, including £100m to reflect the "more uncertain economic outlook" in Britain ahead of Brexit.
Unimpressed investors sent the shares down around 5% in morning trade to 222p.
Shares in Barclays, HSBC and Lloyds were also hit off the back of the RBS update.
However, referring to Brexit, RBS boss Ross McEwan said that in a recent call with Prime Minister Theresa May the lender sensed a "more optimistic tone" than in the past.
Third quarter figures also showed that pre-tax operating profit was up 10% to £961m, but RBS also booked £200m in provisions to cover costs for the mis-selling of payment protection insurance (PPI) in the period.
It reflects higher-than-predicted complaints volumes following a Financial Conduct Authority advertising campaign featuring Arnold Schwarzenegger aimed at encouraging people to come forward before an August 2019 deadline.
RBS has made provisions totalling £5.3billion to date for PPI claims.
In total, RBS detailed £389m in third quarter conduct and litigation costs.
Mr McEwan added: "This is a good performance, set against a highly competitive market and an uncertain economic outlook.
RBS also said yesterday that it has secured approval from Dutch regulators to serve EU clients out of Amsterdam post-Brexit.
Also reporting third quarter results yesterday, the Spanish owner of crisis-hit TSB, Sabadell, revealed it had taken another £78m hit linked to the bank's IT meltdown, which caused chaos for thousands of customers. It comes on top of a £180m charge it booked in the second quarter. The extra costs contributed to Sabadell's third quarter net profit sliding 37% – a drop of £113m.
In April, IT woes triggered by migration of customer data from former owner Lloyds' system to a new one managed by Sabadell left up to 1.9 million users of TSB's digital and mobile banking locked out of their accounts.