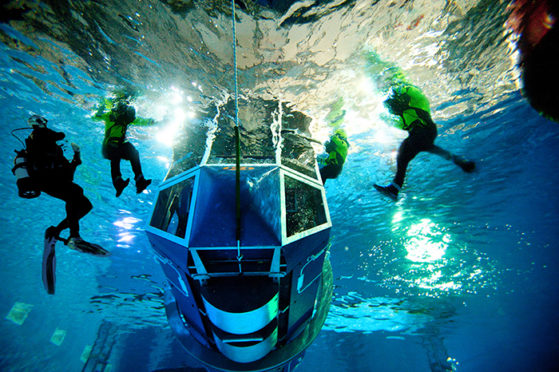 Offshore workers can now complete their mandatory offshore survival training in just one day thanks to the new OPITO-approved Digital-BOSIET (D-BOSIET) introduced at both Survivex in Aberdeen and AIS Training in Newcastle.
Survivex & AIS Training, part of the 3T Energy Group, have pioneered the D-BOSIET, which replaces the first two days of a traditional BOSIET with an e-learning module delegates can complete on their phone or laptop prior to attending the practical course.
Having been part of the initial pilot launch of the course with OPITO, the first full D-BOSIET course was successfully delivered recently with industry apprentices and is available immediately at both Aberdeen and Newcastle training locations.
Sister company's AIS Training & Survivex are the UK's largest OPITO training providers and at the forefront of developing technology for training – helping businesses work safer, smarter and more efficiently.
Paul Knowles, Vice President UK and Europe at 3T Energy Group, said: "Incorporating technology into training is the cornerstone of our business and we are revolutionising the energy industry globally with innovations like 'digital twins', Virtual Reality and advanced simulators.
"We know people learn in different ways and being able to provide a choice between classroom and remote learning is of huge benefit to our delegates and clients.
"For delegates we know that time at home with family is the most important thing so anything that can help maximise this is welcomed.
"Our delegates can now book onto a Survivex or AIS Training D-BOSIET course and complete the theoretical elements in their own time and wherever is convenient – on the train, in the heliport or at home. This reduces the time spent at our training centres to just one day, instead of three.
"The D-BOSIET doesn't just benefit delegates – our clients can book knowing there is less downtime, less cost and more flexibility on dates. Through these changes we are now able to increase availability with triple the number of training dates.
"The courses are available immediately from Survivex and AIS Training."
To find out more about the course visit;
Survivex, Aberdeen or call 01224 794 800
AIS Training, Newcastle or call 0330 202 0668