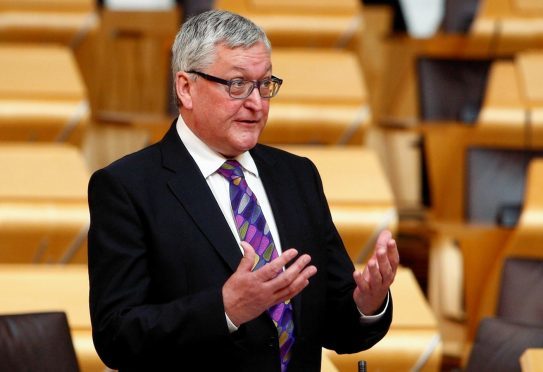 Scottish Government has been forced to launch another cash advance scheme to farmers to prevent prolonged delays to subsidy payments again this year.
Rural Economy Secretary, Fergus Ewing, has revealed details of a new £300million loan scheme for 2016 Basic Payment Scheme and greening payments.
The scheme, which has been described by political opponents as an "admission of failure", will deliver 80% of eligible funds to around 17,000 producers in the first two weeks of November.
Mr Ewing, who along with his predecessor Richard Lochhead has come under fire for the government's handling of farm subsidies, said the scheme would provide certainty and clarity for the Scottish rural economy.
It follows a similar £200million scheme launched earlier this year after the government's new £178million farm payments IT system struggled to process applications.
The scheme is still not working properly and Mr Ewing has admitted that although significant progress had been made, the system would not be fully functional until early next year. He said around 500 farmers were still waiting for subsidy payments from the 2015 round of applications.
"We are sorry that, while we have made substantial progress, we are not there yet," Mr Ewing told parliament.
"Having learned lessons from the 2015 round of Cap payments, I am determined to provide as much certainty as we can, not just for farmers and crofters, but for the wider economy in our rural communities."
He said the new loan scheme would provide "much needed cash flow for normal business costs such as wages, feed and seed, fuel and fertiliser at a time of year when these bills often start landing on the doorstep".
Around 17,000 of the 2016 applications, which amounted to just over 18,000, will be eligible for funding through the loan scheme.
All farmers will be sent a letter later this month explaining their loan offer, or why they are not eligible to access funds through it.
They will then be asked to sign and complete a form and send it back to government no later than October 12, after which payments will be issued in the first two weeks of November.
Mr Ewing said he would update parliament again in January about subsidy payments, however his intention was for the remainder of the BPS and greening scheme payments to be paid by the end of May 2017.