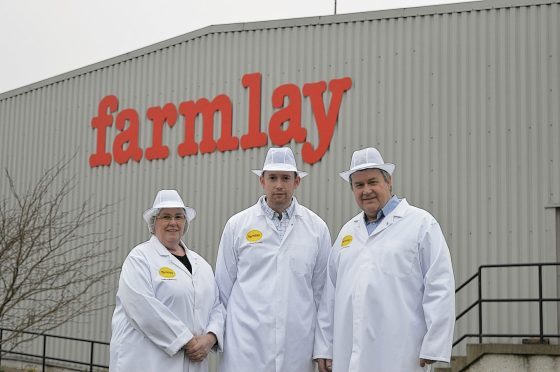 North-east egg producer Farmlay Eggs has blamed rising costs and a competitive retail market for a drop in turnover and pre-tax profits.
The company, which supplies Morrisons, Aldi and Lidl in Scotland, is run by Robert and Ethel Chapman and their son Iain.
The firm sorts and packs approximately 4million eggs a week at its state-of-the-art grading facility, which now includes five robots following a £3.5million investment.
Just under half of the eggs are produced on the family's 2,000-acre farm at West Cockmuir, Strichen, with the remainder sourced from 23 contract producers in Aberdeenshire, Moray and Kincardine.
According to accounts filed with Companies House the company, under its registered name of Aberdeen and Northern Eggs Ltd, recorded a turnover of £15.351million for the year ended May 31, 2016. This is down from £16.120million the year before.
Pre-tax profits were also down to £2.38million, from £2.43million previously.
Robert Chapman blamed the drop in turnover and profits on increasing costs and margins being squeezed.
"The next year is going to be worse. The price of feed is up and all the costs are up," said Mr Chapman.
"It's also difficult in the retail market at the moment to get prices up. Margins are being squeeze. The year before the price of grain was low so egg prices were dropped. We are starting to turn a corner but it is very tough."
He said despite the challenges, the egg sector was performing really well with UK sales increasing by an estimated 4% every year.
"The egg job is a huge success story. They [eggs] are a super food and they are good for you," added Mr Chapman.
He said the company was currently in talks with new producers wishing to supply it with eggs and some existing producers were also looking to expand.
Mr Chapman thanked retailers and the public for supporting the sector during the period of avian influenza restrictions, which required all hens to be housed indoors.
"I have been very grateful for the support of the general public and the retailers with the avian influenza scare," added Mr Chapman. "We have managed to keep the [free-range] price and the public seem to accept that they [birds] are housed for a reason."
He said enhanced biosecurity measures had been put in place and hens were allowed back outside this week.
On future plans, Mr Chapman said the company would continue to expand both its producer and customer base.
A key challenge, however, would be the move by retailers to phase out all eggs from colony hens by 2025 – approximately 60% of the farm's own production base is from colony hens.