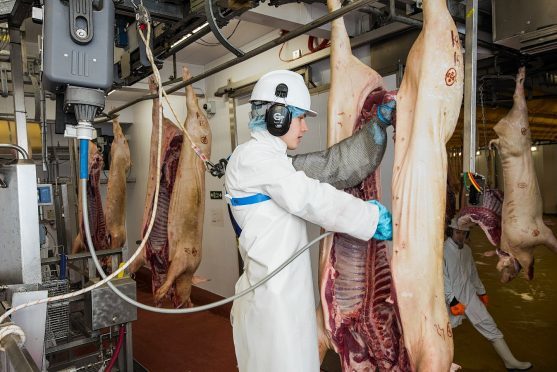 A furious row has broken out between Scotland's red meat wholesalers and industry regulator, Food Standards Scotland (FSS), over an imminent increase in meat hygiene inspection charges.
The Scottish Association of Meat Wholesalers (SAMW) has claimed an increase in charges will damage the whole industry when it is facing Brexit uncertainty and could place some smaller plants under the threat of closure.
SAMW president, Frank Clark has appealed to Rural Secretary Fergus Ewing to intervene in the row and accused FSS of imposing a 0.5% cost rise for 7% less work – a budget move which he believed was adding more than £400,000 of "unjustified" cost to members' businesses.
"The net result is that member companies will end up being charged up to 11% more per hour for red meat inspection," he said.
"In effect, this is an accounting ploy which hides the fact that FSS is imposing an excessive increase on the Scottish red meat chain, largely because it has failed to adjust its own staffing requirements to current demands."
However Food Standards Scotland, which imposes the charges, responded by accusing the meat plants of inefficiency by incurring £279,000 of charges last year for time they commissioned but didn't use.
In a statement FSS said: "These rates have been subject to an external audit and FSS believe these levels of inefficiency do not justify additional support from taxpayers."
FSS also said the smallest plants, which are alleged by SAMW to be under threat, receive a 80% discount on throughput below 1,000 animals and the inspection increase amounted to just 90p per hour for a vet. FSS estimated its total costs for the delivery of official controls for 2017-18 to be £5.9million, a 0.5% increase in overall costs from last year.
Mr Clark said his industry was "disgusted" that FSS was pressing ahead with the new charges.
"This places some plants at risk of closure, due to the fact that the new costs would outstrip profit margins. The fact that a review might subsequently reverse the cost rise, at least to a degree, will be of no comfort to businesses which have already disappeared," added Mr Clark.
FSS director of operations Ian McWatt said: "No increase is ever welcome, but we have been working with the industry both to explain the circumstances which have given rise to the change and to encourage them to make changes which could enhance efficiency and therefore reduce their costs through more effective use of Food Standards Scotland's time. It's hoped that these changes will encourage industry to continue working with Food Standards Scotland to find ways to reduce the cost of regulation whilst ensuring the protection of consumers."