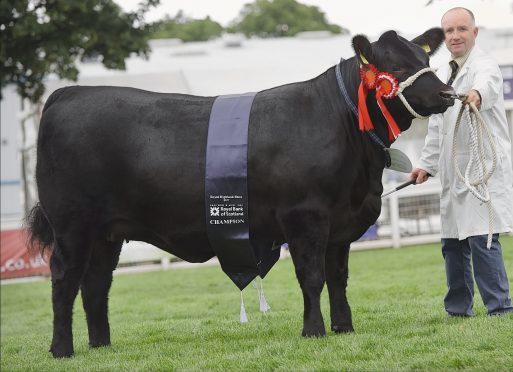 Aberdeen-Angus enthusiasts from 23 countries, in the UK for the World Forum, attended the Royal Highland Show specifically to watch the judging, where they were treated to the biggest entry of Scotland's most famous native breed seen for years.
A marathon judging session for both Harry Emslie of Mintlaw, who was responsible for placing the females, and Michael Alford of Devon for the males, resulted in the championship going to probably the smallest breeder/exhibitors at the show, Alistair and Doreen Cormack, of Leven, Fife.
Alistair was stocksman for the late Ray Grieve's Carlhurlie herd for nearly 25 years and purchased two females at the dispersal last year. He had them both at the show and came out top with the 13-month-old heifer, Carlhurlie Darcie, which Mr Emslie described as "the outstanding female of the day". She beat off opposition from no fewer than 143 cattle to take the red, white and blue ticket.
It has been a difficult year for Alistair and Doreen, with Doreen struggling with MS and her brother, Tom Kerr, passing away on June 1. After the win, an emotional Alistair dedicated the award to Tom. He said: , "We bought the two heifers at the dispersal to give Doreen a boost and give her something to focus on during her treatment, we never believed we could win the Highland Show, this year of all years."
The heifers are kept at Doreen's sister and brother-in-law, Pat and Andrew Wilson's Carskerdo Farm, Cupar. This was Alistair's first win in his own right, but coincidentally the last time the forum was in Scotland, in 1977, he helped his father show the Angus champion. He won it a further two times with his dad and three times for Mr Grieve.
Reserve Angus was Balmachie Rodger, a rising-three-year-old bull from John Lascelles' 25 strong herd at Carnoustie. This bull is by the same sire, Balmachie Ben Vorlich as his 18,000gn bull sold at Stirling in February.