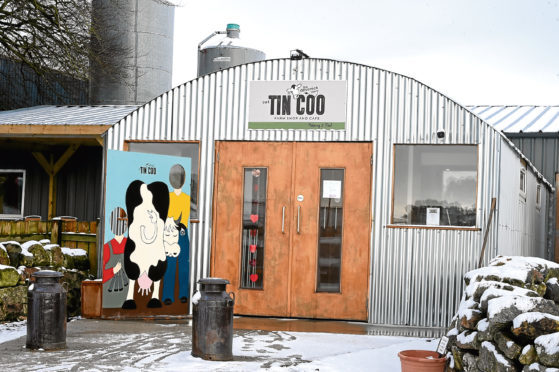 Making cheesecake isn't something you would find most farmers rustling up but for Kenny Groat it's just one of the tasks he's had to turn his hand to since deciding to diversify.
Just over a decade ago the family business, Bishopston Farm at Banchory-Devenick outside Aberdeen, was not big enough to support Kenny and his brother, Ian, as well as father Richard, so they looked at the options for generating a different income using the same land.
Being a family of cheese lovers and milking a herd of about 200 cows seemed to make cheese the perfect solution.
Though they started with yoghurt initially, soft cheese swiftly followed – both products being a quick turnaround in terms of cash flow.
Today the business has been transformed, with Devenick Dairy offering a wide range of cheeses, other products including the cheesecakes and oatcakes and a unique new farm shop and café, The Tin Coo, featuring a soft play area, on-site butchery and viewing gallery where visitors can see live milking.
"It's about keeping it real, the whole thing is about being a bit more open," said Kenny, acknowledging that there is no hiding away from the authentic day-to-day business of farming – transparency is a given, everything is on show.
And it's a policy that appears to be starting to paying off.
Although it's been a rollercoaster, with new challenges to overcome, it's a lesson in metamorphosis.
Kenny's grandfather come down from Orkney 65 years ago and started with six cows.
And though 10 years ago it was a fairly efficient, lean operation, operating over roughly 500 acres with about 500 head of livestock, including beef cattle, ewes, breeding rams and dairy cows, it was time for a change – led by the new generation.
Today the farm, scythed through by the Aberdeen Western Peripheral Route which has accounted for the loss of at least 30 acres, is a completely different entity, inspired by New Zealand–style methods.
It is down to about 240 head of livestock – no sheep – and the dairy herd is moving completely to spring calving.
"We've never done this before and it's all based on how they do it in New Zealand, a grass-based system. We have paddocks all over the whole farm with cow tracks which run to every paddock," said Kenny.
"It's all based on trying to get more milk solids for cheese-making, something with a bit of high protein and a higher butterfat."
This year, instead of using about 59% of their own milk and selling the rest to Muller, they are aiming to process 90% of their own yield.
The cows produce between 7,200 and 7,900kg daily and clearly they will have a massive abundance of milk which will not only allow them to step up their storage and cheese-making capacity but will also see the launch of their own bottled free-range milk – pasteurised, not homogenised, and with the traditional cream on top.
They sell a dozen cheeses, including a variation on their original cheddar-style which has now become Smoked Deesider, and supply restaurants, supermarkets, farmers' markets, garden centres and even another farm shop, delivering by van within a 120-mile radius.
But while some farm shops may have struggled, Kenny doesn't see Bishopston's offering as competition.
"We do different things. Ours is unique – we focus on what we do here on the farm," he said.
The shop, once just a small hut, is hugely expanded.
The butchery sells roasting joints, pork, sausages and rose veal, the latter suprisingly well received.
There are gift hampers, cheese wedding cakes and a range of cheesy oatcakes.
Then there are Experience Days where guests can learn the secrets of cheese-making, get their wellies on and be a farmer for a day with the Milking Time experience, or create their own bangers after a butchery demonstration.
And its Tin Coo café, which will celebrate a year in business in April, offers food based on the farm-to-fork ethos, utilising either their own home-made or locally-sourced ingredients and including such delicacies as the cheesecakes, which encompass Malteser and Orkney fudge varieties, a Tin Coo burger and Picnic Bench Afternoon Tea.
Everything has involved adopting a new mindset, says Kenny.
Where once there were three staff, now there are upwards of 20, from van driver to butcher, cheese-maker, chef, front of house staff and tele-sales.
"For us on the family side, the biggest challenge is how we work our staff. ," said Kenny.
"There are quite a lot of us now. It's been quite a learning curve for us but the route to survival is digging deep and just doing something different. Keeping people engaged and excited and wanting to come back."