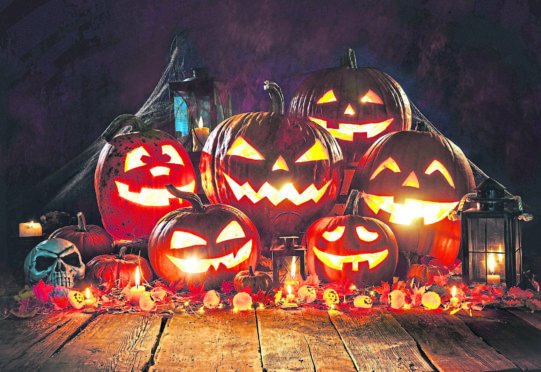 Christmas means ice cream, so Jo Ewart Mackenzie talks early festive prep and recalls a dramatic run-in.
This time of year is always busy in the Mackenzie household.
Hot on the heels of Halloween and Bonfire Night there's a brief interlude before Daisy's birthday, followed by my mum's, my nephew's, my gran's, Mollie's then my dear dad's – all before the end of December.
Since she was three, Daisy has always had a traditional birthday party with games, balloons, birthday "tea" and cake. I was convinced she would opt for a trip to the cinema or the local bowling alley for her forthcoming birthday now she's a bit older, but happily she still wants a party at home.
This year it is a Worst Witch party, which should be straightforward with the decorations still handy from the 31st, Halloween-themed games and spooky party food; Daisy has requested a witch's hat birthday cake which may prove a bit more challenging.
Being thrifty, I thought I would wait until after Halloween to get a few bargain bits and pieces for the party, but alas there was virtually nothing left in the six shops I tried; anything remotely ghoulish replaced by festive decorations, food and partyware.
It seems that Christmas begins in November these days, something that used to bother Nick and I but now, as food producers and retailers, we understand.
Customers – both retail and trade – are looking for festive flavours as soon as the fireworks of November 5 have fizzled out.
Rosie has already had advance orders for Christmas ice cream cakes, which we do in two designs – a traditional Christmas pudding and a snowball – with a choice of two or three flavours inside, which is always good as it lets the team get ahead of the pre-Christmas rush.
Most of our festive flavours are in production now and will be on sale within the next week or so from the farm and in some of our partner outlets. Ice creams include Sticky Toffee Pudding, Rocky Road, Ferrero Rocher, Baileys, White Chocolate and Cranberry, Bread and Butter Pudding, Stollen, Chocolate Orange, Christmas Pudding and Gingerbread as well as seasonal sorbets of Mulled Wine, Clementine and Prosecco.
The semi-skimmed milk is proving popular with farm shop customers so we are going to start producing it alongside our whole milk. It will feature a white top in lieu of my preferred fuchsia-pink one, sadly not available from our suppliers.
In other news, the CCTV cameras Nick installed in October in the honesty shed and on farm have already been hugely helpful, not to mention revealing.
Nick has been observing the robots and calving sheds from the comfort of the house at night, providing peace of mind outside of his routine check of the farm and herd before bed. A less comfortable observation, however, was someone stealing from the honesty shed one evening last month.
We weren't at home during the incident – trusted employee Scott, was on duty and reported it to Nick immediately – but watching it back on camera left us feeling disgusted and disheartened. What's more, the dishonest culprit returned last week around the same time, 9.30pm, to help himself to more free ice cream, eggs and milk.
I was unaware of this until Nick returned from outside, breathless and a bit giddy. He had clocked the guy on camera and confronted him; I was horrified! "What if he'd attacked you," I worried, "Or pulled a knife on you?"
And in fact, Nick confirmed he was aggressive in his behaviour towards him, but he stood his ground and asked him to leave, which the man eventually did, shouting expletives and threats.
Nick managed to photograph the man's number plate before he left, which he has passed on to police along with video footage of the unpleasant episode. It could well have turned nasty and as a result, so we are now closing the shop overnight from 8pm.
It's so disappointing that the few spoil it for the many lovely customers we have and again, it has prompted us to revisit the entire concept.
We need to weigh up the costs of a vending machine versus a staffed shop, although we feel that the appeal and success of the honesty shop is that it's open and accessible 24/7, which would still be the case if we installed vending machines.
Elsewhere on farm, the pens for the herd's dry cows are now complete in what was formerly a straw shed, so that all the cows are now in the same place. Nick has also upgraded the lighting system in the main shed to improve the herd's fertility, giving them better visibility of the troughs at night.
Nick is also considering buying Ayrshire cows from a partially dispersed herd on Lewis. To justify his farm staffing quota as well as the robots, the herd should ideally be around 115 milking cows but is currently less than 100.
We will also soon be entering the period, post-Christmas anyway, where the milk production arm of the business feels overstaffed due to the decrease in ice cream sales.
Nick mooted a pop-up steak house and I thought about a pop-up tea room, but both would require additional chefs/cooks, which clearly defeats the purpose of utilising the brilliant staff we already have here.
Any thoughts, dear readers, please message Rosie and Nick via Facebook.