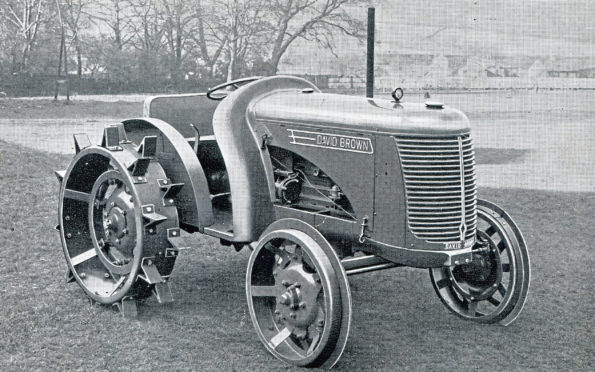 Eighty years ago, renowned gear maker David Brown (DB) and Sons of Huddersfield launched its first tractor.
Brown's reputation led Harry Ferguson to approach it to supply a three-speed gearbox for his own prototype tractor. Subsequent demonstrations included one near DB's Park Works where David Brown, grandson of the founder, was impressed.
Aware of the potential of mechanised agriculture following a trip to the USA, he had ideas of the family business manufacturing an end product instead of supplying components.
Meanwhile, Ferguson was due to use the Craven Wagon and Carriage Works to manufacturer his tractor, but when this fell through David Brown stepped in. Space was cleared at the factory and the Ferguson Type A, also known as the Ferguson Brown, began its short run in 1936.
Although Ferguson's tractor was innovative, it was expensive and had many failings. A DB team under Albert Kersey investigated and suggested several improvements, but Ferguson refused, leading to tensions. In 1938, Kersey and his team were instructed to secretly begin work on a new tractor.
That same year as Ferguson secretly demonstrated the Type A to Henry Ford in the USA, leading to the Ford Ferguson tractor in 1939.
David Brown surveyed British farmers as to what they required in a modern tractor and acted on the feedback. A larger engine, developed with influence from Alex Taub of Vauxhall and Harry Ricardo, dealt with criticism of the underpowered Ferguson. Decent ground clearance was achieved, while the availability of a power take-off (PTO) unit and a belt pulley were features farmers required.
A novel element was the dished, pressed steel wheel centres that allowed for differing wheel widths allowing row crop work.
The company's gear expertise created a strong, compact and reliable four-speed unit with more speeds than its competitors. Drive via the spiral bevel wheel was through reduction units bolted to the rear axle facilitating easy removal. Bolt-on hydraulic, PTO and belt pulley units were also offered as accessories.
David Brown wanted the tractor ready for the July 1939 Royal Show at Windsor for a debut with impact. Two show tractors given the name of VAK1 (which stood for vehicle agricultural kerosene 1st model) appeared alongside Ferguson tractors and it is said there were more than 3,000 inquiries taken.
To put this tractor into production David Brown Tractors needed a larger production site, so young David Brown purchased a former cotton mill at nearby Meltham.
However, it was Adolf Hitler who would have the final say. As the Second World War began in September 1939, the government contracted David Brown to supply items such as aero engine gears and tank gearboxes. However, the firm was allowed to continue tractor production due to the need to move and supply heavy RAF bombers.
Tracked versions damaged grass airfields and struggled for grip on concrete, therefore many were converted back to heavier wheeled tractors with winches.
Other changes turned them into VIG (vehicle industrial gasoline) tractors. Although some civil servants saw the VAK1 as the best tractor and wanted it to go into full production it was not to be. Several improvements were made including the change from the familiar cast iron radiator grill to a pressed steel "bullet hole" version in 1943.
DB also patented the now-familiar adjustable turnbuckle top link. By 1945 5,300 VAK1s and VIG1s had been produced.