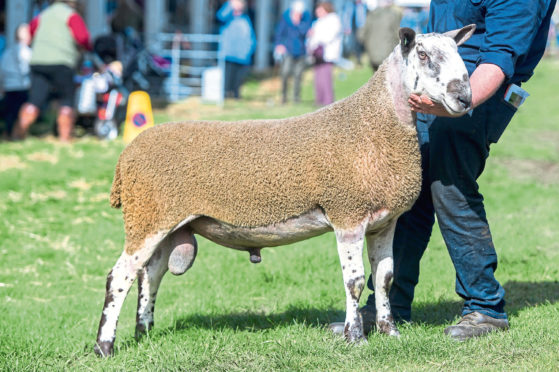 Trade held up well on the year at the Kelso Ram Sales.
There was an 81% clearance and a total of 4,191 rams selling through the 15 rings for an average price of £6,97.55, up by £16 on the 2018 sale, albeit for 200 fewer sold.
Across all breeds, the Texel shearlings produced the best average overall, with 766 levelling at £975.20. They were led by two £8,500 sellers, from the Greenall and Roxburgh Mains flocks.
"Good commercial tups were well bid for," said Lawrie and Symington's Brian Ross, who was selling Texels.
"There was a definite emphasis on quality, though and buyers were prepared to pay more for the best lots."
Not far behind, however, were the Bluefaced Leicesters, with 450 shearling rams averaging out at £968.29.
They also produced the top lamb average – £616 for 38 – and the best individual prices, at £15,000 and £12,000. Lawrie and Symington's head sheep auctioneer, Archie Hamilton, who sold most of the Bluefaced Leicesters, said: "Trade was far better than vendors expected but Scotch Mule ewe lambs, gimmers and even store lambs have also sold better than the industry was expecting.
"People were looking more for top end tups and especially sheep that were correct on their legs."
He added that commercial rams were selling from £400-£600 per head.
Sale leader was the number one from Obie Sharp's 50-strong Newbigging Walls flock from Lauder.
A son of a £20,000 Dunhonw sire bought at Hawes in 2017, he sold in a five-way split to James Herdman, Alnwick; Derek Hall, Penicuik; Colin Dick, Peebles; John and Richard Wood, Biggar and Andrew Campbell, Lochgoilhead.
His full, natural-born twin brother sold for £6,000 to the Hamilton brothers from Aikengall, Dunbar.
Second top was £12,000, paid for the pen leader from the Wights' Midlock flock from Crawford, purchased by Malcolm Coubrough, Hartside, Lamington and John and Finlay Robertson of the Beeches flock from West Calder.
Backed by home-bred genetics, he is by Midlock Mustang and out of a home-bred show ewe that has bred sons to £15,000 and £12,000.
Others in the Bluefaced Leicester rings included an £8,000 seller from James Herdman's Edlingham flock – a shearling son of a £3,600 Hott Bank, purchased by Sam McClymont and Sons, Tinnis and the Kays at Hartside, Lauder.
Top price amongst the traditional Bluefaced Leicesters was £5,800 from Alan McClymont, Kirkstead, Yarrow, purchased by Raymond Baynes, Blackford, Croy.
TEXELS
Trade topped at £8,500 twice in the Texel rings, with local seller John Green receiving that early on for a shearling from his Greenall flock at the Craggs, Melrose.
Sired by Greenall Atacus, Greenall Billy Whizz sold to Richard and Chris Thornton, Cornhills, Morpeth.
At the same money, John Elliot, Roxburgh Mains, Kelso, sold a shearling son of the £23,000 Midlock You're The One to Ken Hodge's Greenarch flock at Upper Huntlywood, Earlston.
Ian Murray's champion, Glenway Billy The Kid, sold at £8,000 to Jeff Teward, New View, Darlington. Sired by Glenway Ace of Diamonds and out of a ewe by Brackenridge Strongbow, he was interbreed champion at Glendale Show.
Collecting his best ever price of £7,200 was Turriff-based Matthew Seed, who runs 100 ewes at Home Farm, Auchry. He sold a shearling son of Boghouse Atlanta, out of a ewe by Culter Allers Vulcan, to Esmor Evans, for his Maerdy flock in Wales.
Alex and Russell Gray, Langside, Lanark, sold to a top of £7,000 for a son of the 23,000gn Peacehay Ya Belter. He went to Gary Beacom, Lakeview, Co Tyrone and William and Liz McAllister, Parkgate, Ballymena.
Also from Langside, another by the Peacehay tup, this time out of a Langside Vagabond daughter, sold at £6,200 to Lilburn Estate, Wooler.
Malcolm Coubrough, Hartside, Biggar, also received a top of £7,000, for a Halbeath VIP son, out of a ewe by Sportsmans Unbeatable, which went to W Wearmouth and Son, Rosehill, Auckland.
Similarly, Jonathan Watson, Bowsden Moor, Berwick Upon Tweed, sold to £7,000, for one by the Builth purchase, Duhonw Yager Bomb, out of a ewe by Haymount Va Va Voom. Buyer was Jim Innes, for his Strathbogie flock at Dunscroft, Huntly.
Final £7,000 seller was the best from the Quick family's Loosebeare flock from Devon. Sired by the £5,800 Brijon You're The Boy, he sold to Josh Greasley, for his Kedleston flock in Derby.
The 766 registered Texel shearlings averaged £975.20, while 164 lambs averaged £516.04. Meanwhile, 598 unregistered shearlings averaged £571.20.
OTHER BREEDS
Prices peaked at £6,000 among the Suffolks, with the dearest consigned by Fife breeder Stewart Lathangie's Pyeston flock from Glenrothes.
His ram lamb, a son of Limestone Legacy, out of a home-bred ewe by Birness Bollinger, sold to Lara Jane Berry, Rawtonstall, Lancs.
Second top among the lambs was £4,000 paid for the champion at the pre-sale show, a son of Strathbogie Peaky Blinder out of a ewe by Haddo Hi Voltage. He was consigned by Steven and Louise Buckley, Sittinglow, Derbyshire and sold to Messrss Woolway, Devon.
Peter and Lynn Gray, Scrogtonhead, Galston, sold the dearest shearling ram at £4,500 to Kenneth Sutherland and sons Stephen and Kenneth, Stainland and Sibmister Farms, Caithness. He is by Brijon Blackmagic.
Another by the same sire from Scrogtonhead made £2,500 selling to James Delargie, Northern Ireland.
Colin and Fiona Wight, Carwood, Biggar, enjoyed their best trade, taking £4,000 for a shearling son of Rugley Eyecatcher that was placed at the pre-sale show. He was knocked down to A and HC Smith, Crumhaughhill, Hawick.
One of the first lambs sold made £2,500 for Ronnie Black and sons Mike and Pete, Newton of Collessie, Ladybank, Fife. Their February-born ET lamb is by Limestone Legacy, bred from a former show ewe and sold to Bryden Nicolson, Knockem, Duns.
Overall, 208 registered Suffolk lambs leveled at £789.42, while 250 lambs averaged £475.80. Some 411 unregistered Suffolks averaged out at £635.52.
Meanwhile, best of the other breeds were the Beltex, which sold to £6,000 for the pre-sale champion from Kevin Buckles and sons Jack and Tom, Buckles Farm, Kirkby Stephen.
Buckles Dragon Slayer, an ET bred from Buckles Annie Power and sired by Broxty Supreme, was bought by the pre-sale judge, Messrs Hall, Skipton.
Northern Ireland breeder Gary Beacom, who owns the Lakeview flock, sold the next two at £5,000 and £4,500. Both were sired by Murrays Code and sold to Messrs Gray, Unthank and Paul and Christine Tippetts, Shifnal, respectively.
A total of 292 Beltex shearlings averaged £716.20, while 14 lambs leveled at £412.86.
The cross section was topped at £3,200, with 598 shearlings averaging out at £580.37 and 11 lambs levelling at £341.82.
North Country Cheviots sold to £1,500 and averaged £611.79 for 28, while Border Leicesters peaked at £1,000 and leveled out at £350 for 48. Some 69 Lleyns averaged £540.14 and sold to £1,100.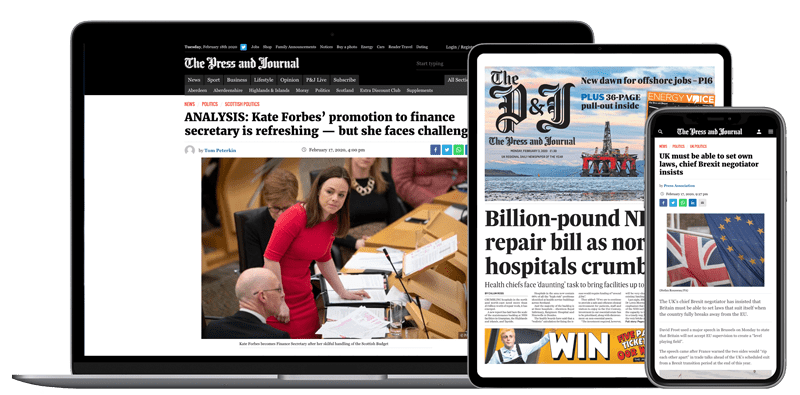 Help support quality local journalism … become a digital subscriber to The Press and Journal
For as little as £5.99 a month you can access all of our content, including Premium articles.
Subscribe