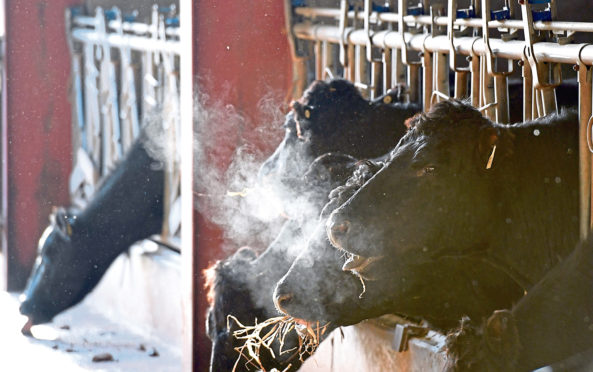 Farm leaders have called for a UK-wide emergency support package for beef producers.
The plea was among a list of demands outlined in a joint letter to Defra Secretary of State Theresa Villiers from NFU Scotland (NFUS) and its counterparts in England, Wales and Northern Ireland.
The letter comes following a period of sustained prime beef prices which are estimated to have cost the UK beef sector almost £170 million between November 2018 and August this year.
As well as calling for financial support for beef producers, the farming unions have demanded a "complete rethink" of the UK Government's no-deal tariff schedule for beef imports and for a commitment that all public bodies will be required to source UK beef.
Other demands include a move to introduce country of origin labelling for all processed beef products and for the government to match-fund the UK red meat levy bodies, including Quality Meat Scotland north of the border.
The farming unions have also called on government ministers to travel more to expanding markets, such as China, to secure better and faster market access for the beef sector.
"So far there has been very little recognition of the plight of Scottish beef farmers and crofters," said NFUS livestock committee chairman Jimmy Ireland.
"We need to see the government show the same recognition of our farmers as the European Commission did for farmers in the Republic of Ireland, who are receiving an additional 100m euros (£86.2m) cash injection."
He said government needed to support local, grass-based suckler beef production at a time when the environment was at the top of the agenda.
"I am calling on the government to take essential steps to support the sector, including emergency support for Scotland's beef producers," added Mr Ireland.
"Scottish beef farmers and crofters require an urgent resolution to this situation and we need to finally see action from the government."
A Defra spokeswoman last night said Ms Villiers had not yet received the letter from the farming unions. She added: "Our thriving food and farming industries are at the heart of our economy and culture and our world-renowned beef sector plays a crucial role in this.
"We are committed to ensuring our beef industry remains strong and profitable as we leave the EU and explore new trading prospects that work for the whole of the UK."