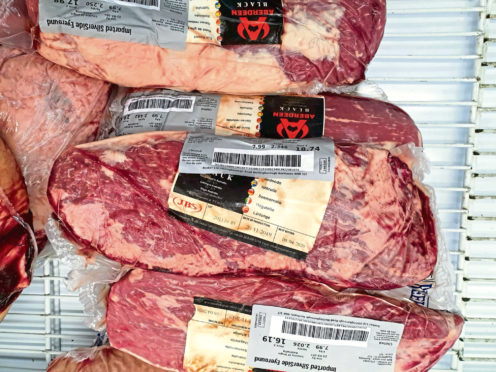 The food wholesaler Booker, which is owned by Tesco, has admitted relabelling Uruguayan beef – but claimed it was a case of "human error" and not common practice.
The admission came after the National Beef Association (NBA) challenged the company to explain photographs of relabelled meat which also covered information on freezing and shelf life.
In a letter to Booker, NBA interim chief executive Neil Shand stated: "Whilst we acknowledge and agree that labelling laws in the UK under the current EU legislative banner are vague to say the least, we understand that labelling over the original label is against the law.
"This therefore appears to be a breach of both trading standards and environmental health law."
Mr Shand also questioned the company's shelf-life and freezing policy, stating that good practice laws on frozen beef mean it can be frozen for a period of up to six months, but no more than 12 months.
He said: "Your best before date of July 2021 from an animal slaughtered in November 2019 covers 20 months – a period way in excess of accepted norms."
A Booker spokesperson said it was a proud supporter of the British meat industry and insisted the incident was "an isolated, local incident" caused by human error.
The company said it had regular environmental health officer visits, which had not identified any issues, and added: "We are sorry that this incident occurred and have taken steps to reiterate to our colleagues the correct procedures."
Booker also said that it was "standard practice for the frozen food industry to give a two-year shelf life on beef, lamb and pork which is frozen at source".