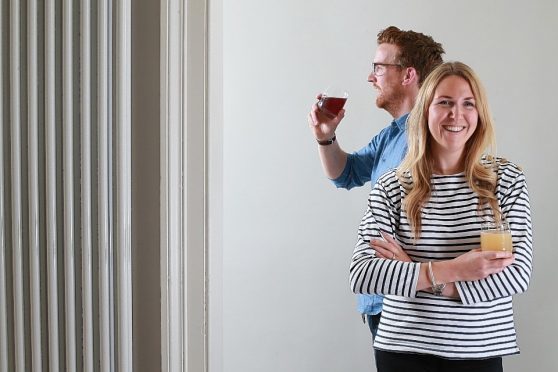 It's a situation that will be familiar to so many entrepreneurs throughout the North of Scotland. You wake up in the middle of the night with a brilliant idea for a new product or service and sit bolt upright in bed.
You scramble around looking for a piece of paper and a pen so you can capture the idea before it disappears. After scribbling down your notes, you slip back off into a satisfied sleep.
Then you wake up the next morning and scratch your head as you begin to wonder what you can do to turn your idea into reality. Most small businesses don't have the resources to invest thousands of pounds in research and development to bring their ideas for creating or improving products, processes or services to life.
Step forward Interface, a public sector agency that runs a "matchmaking" service for connecting businesses to academic expertise in Scotland's 23 higher education and research institutes. As well as finding the right academics to help solve problems, the organisation can also point businesses in the right direction for grants, including the Scottish Funding Council's £5,000 innovation vouchers.
Now in its 12th year, Interface has introduced more than 2,300 businesses to academic partners, with 79% of companies reporting or expecting increased turnover as a result of those collaborations. The organisation has had a presence in Inverness for the past five years, but has recently expanded its team in the Highland capital from two to four, with an additional member of staff now also working out of the Robert Gordon University in Aberdeen.
"Living in the north is no barrier to working with academic institutes across the country," says Lorraine Thomson, Highlands and islands manager at Interface. "You can be a very small company in Orkney and working with a big university like Edinburgh or Glasgow."
Clients who have used the agency's services range from Glenglassaugh Distillery at Portsoy and Lerwick Brewery on Shetland all the way through to ingredients maker Macphie of Glenbervie and clothing company Johnstons of Elgin.
Household names like Kodak and Toshiba also turn up on the list, alongside more unusual customers such as the Harris Tweed Authority and Scottish Ballet.
"I've not got a bad word to say about Interface – it's been really positive," confesses Karen Knowles, director of Aberdeen-based Bon Accord Soft Drinks. Ms Knowles is the great-great granddaughter of the founders behind the legendary north-east brand and teamed up with business partner Nathan Burrough to revive the label, after the pair met while working for Young's Seafood.
Ms Knowles originally approached a lecturer at Heriot-Watt University in Edinburgh directly for help, who put her in touch with Interface, which in turn sent a request around Scotland's universities. She chose to work with the University of Abertay in Dundee and received an innovation voucher.
"The innovation voucher covered the product development work for the recipes," she said. "Aberay ran about 60 consumer panels to let people try the products and receive feedback, which led to some amendments for the final recipes. They also carried out technical tests, like nutrition and shelf-life."
Demand for the new wave of Bon Accord drinks – which include natural sweeteners and real fruit juices – has been high and Ms Knowles has already contacted her manufacturing partner in Ayrshire to order more stock. "It was important for us to keep manufacturing in Scotland," she adds.
Karsten Karcher, founder and chief executive of Pulsetta, which makes gluten-free biscuits and breadcrumbs from pulses, found it so useful to work with Interface that he went back for a second helping. He was introduced to the agency by the University of Strathclyde in Glasgow, with the organisation hooking him up with the Rowett Institute in Aberdeen to carry out nutrition work.
"It was brilliant and we've had a loose on-going relationship with the Rowett as a result," he explains. "We also went on to run a shelf-life project with the University of Abertay."
Earlier this year, Pulsetta launched a joint venture with Duncan's of Deeside under which the family-owned baker will manufacture and sell its range of gluten-free biscuits. Pulsetta's biscuits are already exported to Austria, Germany, Romania and Thailand, but teaming up with Duncan's will allow customers in the baker's dozen overseas markets to order the products too.
It's not just food and drink businesses that have benefits from Interface's services. Paulette Brough, founder of Stornoway-based Harris Tweed accessory maker Rarebird, was introduced to Interface by Business Gateway during an open day at Lews Castle College.
Ms Brough was working at a kilt-maker before launching her business in 2007. "I hadn't really taken any interest in Harris tweed until I went to one of the mills with one of my co-workers and I was surprised at how nice tweed was and how many colours there were," she explains. "I made myself a little handbag and it grew from there."
Ms Brough had moved to the Outer Hebrides after being made redundant from her role as a sample machinist at Bentwood Brothers, a clothing manufacturer in Bolton that supplied Marks & Spencer. The company, which was part of the Stirling Group, was de-listed from the London Stock Exchange in 2003 following a management buyout led by Steven Bentwood but fell into administration in 2010.
"Most of the female members of my family had worked in cotton mills," she remembers. "I could make anything from ladies' swimwear to nightwear and ladies' blouses and skirts and jackets – but I'd never actually made a handbag. I had the skills, but it just took a bit of thinking about."
Interface gave Brough a choice of academic partners and she selected Glasgow School of Art. "I wanted to explore making my own prints for my fabrics," she says. "I wanted something more reflective of the Hebrides."
Ms Brough found that living on an island wasn't a hindrance when working with Interface or Glasgow School of Art. "They're only a phone call away," she said.
"Sometimes things are hard being so remote – you can't do things like nip out to the shop to buy something or have something delivered the next day because everything is a ferry ride and hundreds of miles away. But passing information backwards and forwards to Interface was easy through email."
Being in a remote location hasn't held back Anna Vermehren either. When she took over as director of the Timespan museum and arts centre at Helmsdale in Sutherland in 2012, her predecessor had already made contact with Interface.
Timespan wanted to work with academic partners for an archaeological excavation to mark the bicentenary of the Kildonan clearances in 2013 and to also create a "virtual reality" model showing what the township would have looked like 200 years ago.
Interface introduced the museum to the School of Computing at the University of St Andrews. "They built the township that we excavated and, within this township, you can now see how we would have imagined one of the longhouses would have looked," explains Ms Vermehren. "We've used the model in all sorts of ways, but most prominently in our storytelling room, where you can walk around a virtual township and visit the past."
As well as helping Timespan, the partnership has also benefitted the university. Ms Vermehren has written academic papers with university researchers and has given talks alongside them too, including in France and Iceland. Timespan and the university are currently working together on a European project with Iceland and Norway.
The collaboration has also led onto Timespan hosting a "geek in residence" to help it use technology. Two of the past three geeks have been students from the University of St Andrews, with the current geek – Adeola Fabola – helping to create virtual reality images of the herring curring yard on which the museum sits.
"It provides students with an opportunity to get some business experience and we give them a bit of a different experience – being an arts organisation, we treat them like artists or creative people," Ms Vermehren says. "They learn quite a bit about how to deal with the community and how to integrate into a small business context."
University students have also been able to benefit from working with Ms Knowles at Bon Accord Soft Drinks. "I worked with students from Abertay to look at the marketing side of the business," she said.
"It was good for the students to work with real-life projects. They gave feedback on the old packaging and how we could use some of that heritage in our brand."
Since working with Timespan on its initial collaboration and subsequent student placements, Interface has also adopted a proactive relationship with the museum.
"They've created an engagement action plan for development opportunities and how either student placements or academic input could help us move the business forward," says Ms Vermehren. "We're account managed by Highlands & Islands Enterprise and it's a fairly similar service that Interface is offering us now, bringing new resources and different ways of thinking and partnerships to us."