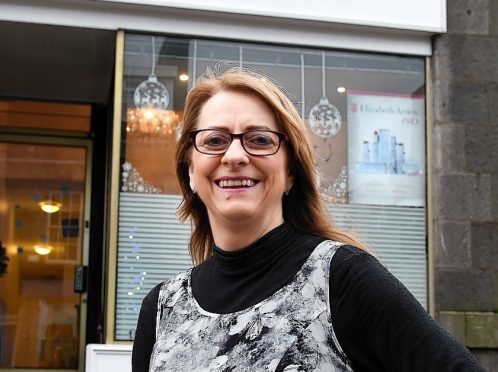 Each week, we ask small businesses key questions.
Here we speak to Sandra Farquhar, who runs Azure Health and Beauty at 124 Crown Street, Aberdeen
How and why did you start in business?
After working for various spas in Aberdeen, I decided to start up on my own. I knew that working for myself would give me more freedom and it's allowed me to offer more than just beauty.
I now offer massage therapy and nutritional advice to clients, as well as hair for nights out and beauty.
How did you get to where you are today?
Lots of hard work, training, and help and support from family, friends and – most importantly – loyal clients.
Who helped you?
My family helped me and I got further advice from Business Gateway, as well as support from the Federation of Small Businesses.
What has been your biggest mistake?
Probably not taking the plunge to be my own boss sooner.
What is your greatest achievement?
I have had many achievements over the years in my personal life as well as my career. My most recent would be receiving my diploma in nutrition, which took me about a year to do. I think it's important to know what you eat and I now enjoy educating others on this.
If you were in power in government, what would you change?
I would like to see more money for mums going back to work as nursery fees are so expensive. More support from the government would help these women to build their confidence and encourage them back into work.
What do you still hope to achieve?
I would like to be involved in teacher training and have already looked into this. Passing on knowledge to others would be very rewarding and it's something I'd love to do.
What do you do to relax?
I love walking and try to do a long walk every weekend. My husband and I went to St Andrews a few weeks ago and did some of the coastal walks there – it was just beautiful.
What are you currently reading, listening to or glued to on the TV?
I love reading thrillers but have not had much time recently to do so. I have though been glued to TV series The Missing over the past few weeks.
What do you waste your money on?
I don't think I waste money on anything, but perhaps my husband would answer this differently.
How would your friends describe you?
I think they'd say I am kind and considerate. They probably think I do too much as I'm always on the go.
What would your enemies say about you?
I don't think I have any enemies.
What do you drive and dream of driving?
I drive a red VW Beetle. I love Beetles – I've had three of them. I'd like a soft-top model for when the weather is nice.