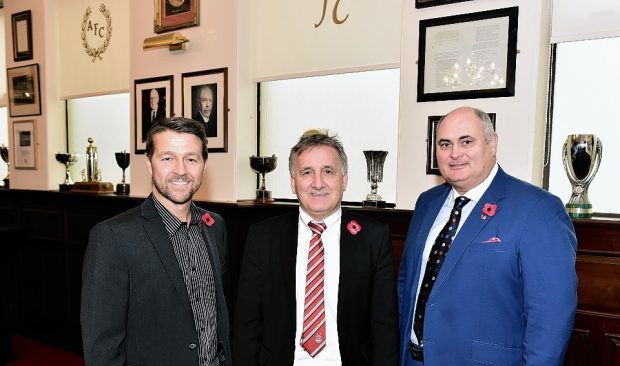 It is not a match day at Pittodrie Stadium yet there is still a buzz about the old place.
George Yule, the executive vice chairman of Aberdeen Football Club, has invited a select group to dine in the club's historic boardroom which is festooned with photographs and trophies from across the decades.
We are here to talk about sport and business – and how vision and leadership cuts across both the playing field and the board room in order to produce winning results.
Duncan Sinclair is the chief executive of the Aberdeen Sports Village. He started his career by following his passion and landing a job at a sports centre in Liverpool doing everything from setting up the badminton courts to cleaning the loos and coaching, giving him a perspective on leadership.
"I didn't appreciate at the time the synergy with business and sport. But as my career advanced I became much more interested in the business element. The common denominator in all of that is people, behaviours and motivation," he says as we sit down at the linen-clothed table.
Terry Cobban, is the chief executive of Ace Group, a conglomerate with four business units including forwarding, aviation, manpower as well as Dangerous Goods Management.
He describes himself as a "local Aberdeen loon" as well as a football fanatic.
"I guess from my view we use sport to try and entertain our customers," he says.
"We are lucky enough to have a box here with dining facilities.
"Everybody likes to go to a game of football, but when you are having a meal first then going into the box it is an entirely different experience."
As our host, Mr Yule has gone all out on the menu prepared by the club's catering firm Sodexo Prestige. We are served pan-fried tiger prawns with wild-caught scallops and Stornoway black pudding, accompanied by a side salad dressed with Rock Rose gin vinaigrette. And that is just for starters. Then there is Scottish fillet steak with Portobello mushroom, butter-glazed roast carrots drizzled with a caramelised red onion jus.
Mr Cobban recalls the days – not too long ago – when what was on offer at Pittodrie wasn't so successful on the pitch or sumptuous off. He refers to these as the "barren years", sometime after the years of triumph in Gothenburg and Europe and before Mr Yule took charge in 2012.
"We had the box through the barren years when you were phoning people asking them if they want to come for some nice food and a drink, they would say there were going shopping for the wife. There's nothing wrong with that, but it was a real hard slog just to get 10 people to come along.
"I hope George doesn't mind me saying this, but the food and the presentation of it wasn't always as good as it has become.
"In the last three or four seasons, both AFC and their partners have stepped up tremendously.
"Guests now are phoning me up and asking for any spare seats on Saturday. That is due to the transformation."
Mr Yule recounts how AFC chairman Stewart Milne approached him to take a senior leadership role at the club. Prior to this, he was a serial oil and gas entrepreneur. And while he was a fan, he admits he was not as avid a supporter of the team during the "barren years" as he is now. "I went shopping with my wife," he jokes.
He credits the quality of the team of people he found at the club when he joined and the need for leadership with vision – as well as a focus on the customer as being a force of the rejuvenation of Pittodrie since.
"This is where the correlation between business and a professional football club is for me, one and the same," he says.
"It is determination to win. It is how you cope with loss, how you cope with success. It is individual and team performance – unity of purpose. There are no guarantees – luck and timing come into it.
"Simplistically I felt that the club needed to view its supporters more as customers and we are delivering service to customers.
"Particularly now at a time when we have set out our stall and our vision and ambition, when we see the pride, goodwill and economic benefits of a successful team to the city, it does raise a question in my mind – is there just an expectation the club is going to be successful?
"If you open that up across the wider city and region, because we have had it so good as an area economically for the past four decades, there is a complacency that has set into Aberdeen. Maybe there is no hunger. But now that things have turned in the last couple of years. Probably in comparison to a lot of UK cities we are still in a great place as an economy. But compared to the good times where literally it was like a dripping roast, we now have to go out and work for it. We have to work harder for a smaller reward. Complacency and laziness about a lot of areas here."
Mr Sinclair admits that he has seen one of the first things to go in a downturn is gym memberships, which has had a knock on effect at the sports village.
"I can relate to that," he says.
"Even at ASV there isn't any company that has not been affected by the downturn in the north-east. The health and fitness market has taken a toll. With people losing their jobs the first thing they will do is look at their bank statement and say I'll get rid of my gym membership. That happened for us relatively quickly. We had to chase every customer. That will be to our benefit, so we will come out of this stronger.
"We are going to be holding an event called celebrating success. ASV has been in existence for seven years. It is a case of pausing for breath and looking at all the things that have been achieved celebrating staff, partners, customers. We are doing some research, coming back to that nuclear moment where people were sitting around the table saying there is a real need in this city for something that is ambitious and awesome and collectively we can do something special like that and that has been delivered."
Interestingly enough, it was Mr Yule who was chair of the ASV when it decided to press ahead with the £22million aquatic centre.
"There was challenges to that because not everyone agreed that was money being well spent for the city," he recalls. "We had to over come objections and challenge. "People were saying your vision is unrealistic – you are looking to set up an Olympic standard pool – settle for eight lanes. But 10 lanes is Olympic standard.
"We said this is a generational thing – you only do this once.
"The vision we had was realistic – but aim for the stars. We needed to overcome al the challenge to deliver that as well.
Now what we have created here is a real legacy for people in this region.
"The one piece we are now missing in this region now is the external sports facilities."
Mr Sinclair agrees: "External facilities will be the cherry on the cake of the city."
Of course, Mr Yule is also taking the lead on AFC's plans for a 20,000-capacity stadium on a 25-hectare site near Westhill that will include three professional training pitches, two community 3-G pitches, a community pavilion, gymnasium and an AFC heritage museum.
The plan is controversial, not least because of fears of the effects of match day traffic.
"It is a vision. Leaders need to lead," says Mr Yule.
"But the vision needs to be not only ambitious it needs to be realistic. Usually that is accompanied by difficult and challenge.
"First of all we are busing around professional full time athletes on a day to day basis looking for somewhere to train.
"We need to fix that. We are punching well above our weight as a club in Europe and domestically without stuff like that.
"Just as importantly we need something inspiration for the young folk in this are who have aspirations to break into the world of football.
"What we are promoting here, yes it is a benefit for the club but as a community and region we need to up our game with external sports facilities.
"Our community trust has been a huge success in the three years they have been in existence. they have had more than 70,000 coming through their doors – they don't have facilities.
"They are like us they beg and borrow facilities where we can get them.
"We need a place we can call our own, so the community trust to do not only what they are doing now but do more of it.
"We are doing 10 times more than we did when I cam to the club and 10 times less than people want us to do.
"If you go down the economic route, as a city we have got to kick in a succession plan beyond oil and gas.
"Even if it is here for the next four or five decades, we have got to start planning for life beyond oil and gas and start diversifying into other sectors.
"This training stadium project in its own right isn't the solution but it is part of it.
"Those who are objecting – they have the right to object. But those who are objecting are taking a tunnel-vision, selfish view that life will always be the same in Aberdeen.
"We have enjoyed a good lifestyle, full employment in Aberdeen. I want the kids to do that as well. And we ain't going to do that by watching the oil trickle out."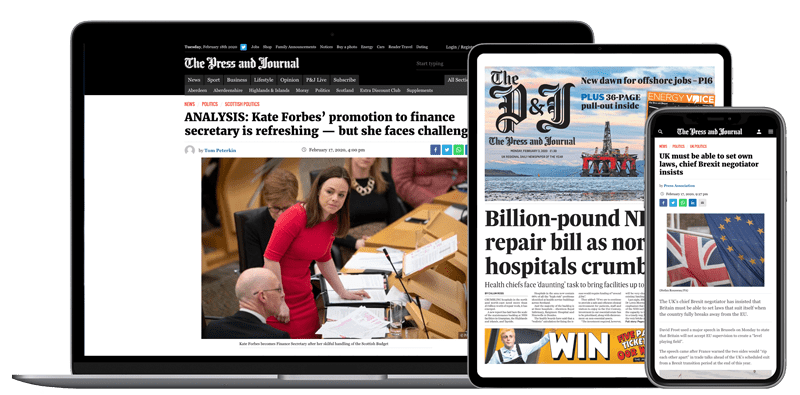 Help support quality local journalism … become a digital subscriber to The Press and Journal
For as little as £5.99 a month you can access all of our content, including Premium articles.
Subscribe