Bosses at a struggling small engineering firm have warned a failure to halt "daylight robbery" business rate rises will cost people their jobs.
Bev Robertson said she was "flabbergasted" to be told she must pay an extra £15,519 from April – an increase of 57% – despite the oil crisis squeeze.
She has joined a chorus of entrepreneurs demanding the Scottish Government take action to soften the blow in the north east.
Business leaders across all sectors are uniting to heap pressure on Finance Secretary Derek Mackay to phase-in the changes.
Bar owners say the hospitality industry will also be devastated by the increased tariffs – which are based on valuations carried out when the region's economy was booming.
Finance director Mrs Robertson and her business partners have built up Precision Oil Tools in Kintore over 13 years and now have a staff of 12.
They made a loss for the first time last year because of the dramatic slump in the oil price and the rate shock has left them desperate for help.
"We have cut back and cut back and cut back already. The guys took a cut in hours last year to avoid redundancies," she said.
"We have spent everything we've built up over the last 12 or 13 years just keeping the lights on.
"We need large premises because we use big machinery but we do not make massive profits, we've not got thousands sitting in the bank.
"Where would they like me to find that kind of money?"
In a letter to local politicians, she said: "A 63% increase in rateable value for a property which is not on the public sewer or drainage system, has no public lighting, no footpaths, access roads which we must clear of snow and grit ourselves, is in my opinion nothing short of daylight robbery.
"Unfortunately we have already cut our cloth so many times I believe that the only thing left for us to do will be to cut our staff numbers."
She added: "It's not something I want to do but if things do not pick up we can't take money out of thin air."
A coalition of business and civic leaders is being formed to urge Mr Mackay to introduce the sort of transitional relief enjoyed by firms in England.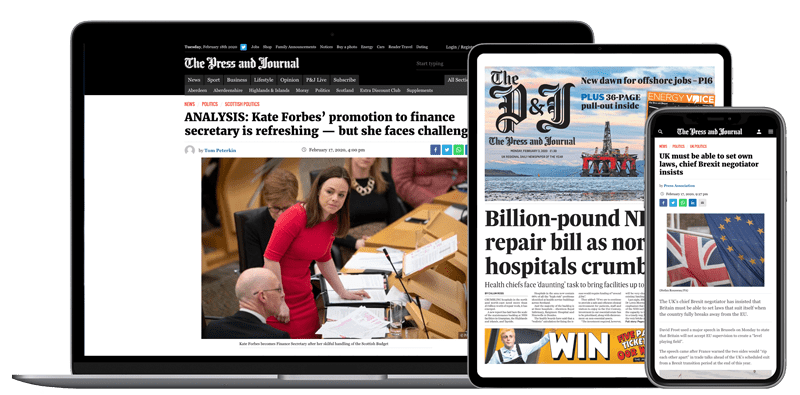 Help support quality local journalism … become a digital subscriber to The Press and Journal
For as little as £5.99 a month you can access all of our content, including Premium articles.
Subscribe